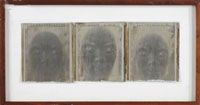 Arts and Culture: We may not know much about art, but with calculators in hand, we found a story of potential value on pioneering mixed-media artist William Anastasi. According to the Top Three sales report of a Christie's Interior auction on Jan 11-12, 2010, three pieces by Anastasi took the top three slots in the fine arts category. On average, the three pieces sold at nearly 2,000 percent higher than pre-auction estimates.

Anastasi's mixed-media rendering "Three Friends" sold to a private collector for $35,000, which is nearly 30 times its pre-auction estimated value. The highest price item in fine arts was "Untitled," which sold for $40,000, or 20 times more than expected. Rounding out the Fine Arts Top Three sales report in the second spot is "June 5, 1985 10:50-11:33 AM." It sold for $37,500, which is more than nine times its pre-auction estimate. Like "Three Friends," all pieces sold to a private collector.

Overall: Coolness and a seriously irreverent wit define Mr. Anastasi's work. Along with Andy Warhol, the native of Philadelphia is a pioneer of conceptual art. Born in 1933, William attended the University of Pennsylvania; and, yes, he is alive.

11 more words: An interiors auction generally includes fine art, furniture, and decorative objects.
Related Topics : Christie's, Lifestyle News