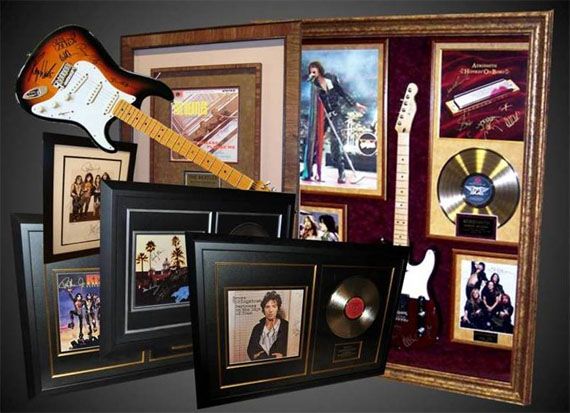 Photo Courtesy of Rock Star Gallery
I recently read an article about
collectibles
for The Beatles that touted a set of fine writing instruments, and it struck a chord that resonated though me.
There just had to be more than manufactured souvenirs and the occasional auction of valued souvenirs out there for a band that sold more albums than any other musical group. Thankfully, I was right, as I found my fill of collectibles for The Beatles and many other legendary rockstars at Michael W. Dunn's Rock Star Gallery.
This Scottsdale, Ariz.-based gallery contains some of the most amazing collectibles of modern musical history. The noteworthy memorabilia is in tune with priceless pieces from the annals of rock and roll music. For more than 20 years, Mr. Dunn has amassed a vast collection of autographed photographs, album covers, RIAA-certified gold albums, and drumheads by bands and individual artists alike.
There are autographed photographs from the likes of Led Zeppelin's Jimmy Page, Aerosmith's Steven Tyler, Van Halen, Bruce Springsteen, Alice Cooper, B.B. King, Bob Dylan, and Kiss. A rare black and white promotional still from the mid-1950s of Elvis Presley recently sold. Along with original signed pieces, there are numerous giclee reprints of photo collections as well.
Rock Star Gallery also offers original work done by celebrity artists. Art by The Beatles' John Lennon, Paul McCartney, and Ringo Starr is available. Additional works by famous musicians include the Rolling Stones' Ronnie Wood, guitarist Jimi Hendrix, and singer Janis Joplin.
Encore: Sebastian Kruger's paintings of the Rolling Stones are music for the eyes. His intimate renderings capture the essence of the band most poignantly. Each month the Rock Star Gallery features a special star or a band. This month's specially featured band is the Eagles. The gallery also features special events, such as the hosting of meet-and-greet gatherings.
Rock 'n' roll fantasies can become a reality at Michael W. Dunn's Rock Star Gallery! For more information, visit www.rockstargallery.net.