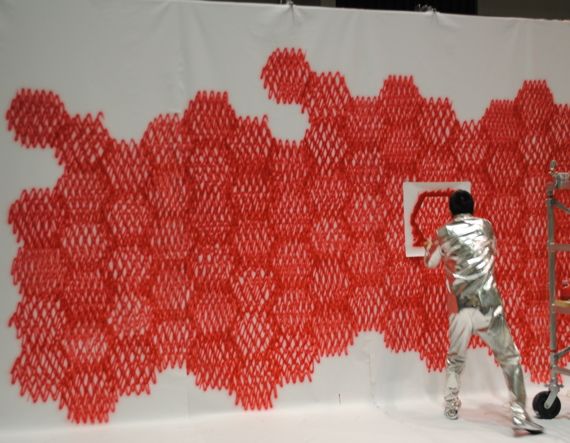 The architecture and design community has been reaching out to help Japan rebuild after the deadly earthquakes and tsunami that hit earlier this year. The
Dwell on Design
show at the Los Angeles Convention Center featured
Japanese artist SASAKI
for a live performance of his Heartbeat Drawing Project to benefit the disaster victims.
The performance art piece showcased SASAKI, clad in a silver jumpsuit, listening to a donor's heartbeat and tracing the pattern of the rhythm in red paint with an airbrush. Each hexagon in the series represents one minute's duration of the donor's heartbeat. The art is being created as an effort to raise money for Architecture for Humanity's relief and rebuilding efforts.
The massive canvas represents the heartbeats of many different donors, combined into a single artwork of solidarity. At the show, many people gathered around to watch the artist work - a profound mixture of both solemnity and action, as the heartbeat of the donor connected all watching in a single moment of intimacy.
SASAKI began the
Heartbeat Drawing Project
in 1995. He was born in Akita, Japan but currently lives in Los Angeles and has raised money at several different fundraising events. He raised over $3,500 for Architecture for Humanity's Japan Earthquake Reconstruction Fund at an event in April in Los Angeles.
He has also been an artist-in-residence at the Chinati Foundation in Marfa, Texas and at the Sutra Center in Kathmandu, Nepal. His next appearance as part of the Heartbeat Drawing Project will be with Venice Biennale's Personal Structures. As part of the 54th International Art Exhibition, Personal Structures presents 28 artists from five continents, representing 12 countries whose work touches on the concepts of time, space and existence. The exhibition is curated by the Dutch curators Karlyn De Jongh and Sarah Gold.
Photo Credit: Deidre Woollard
Deidre Woollard
Deidre Woollard
Deidre Woollard
Deidre Woollard
Deidre Woollard