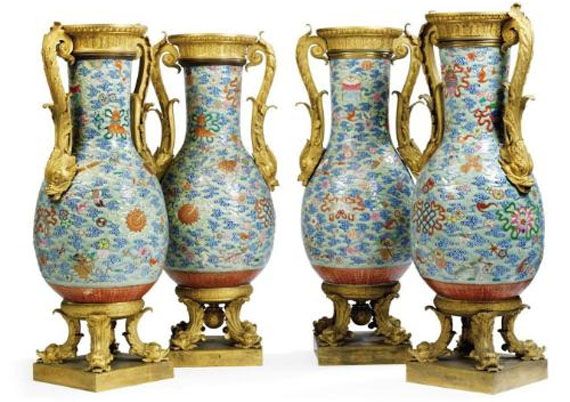 Photo Courtesy of Wynn Resorts
Casino mogul Steve Wynn is famous for his art purchases. From Monet to Warhol, Wynn has bought them all including a certain legendary Picasso, Le Reve, that later suffered an unfortunate accident when Wynn sent an elbow into the canvas.
Wynn has often justified his art purchases by using them to enhance his
luxury hotel
resort properties and his latest acquisition is no exception. Wynn Macau Limited recently acquired an extraordinary group of important Jiaqing period (1796-1821) vases at a Christie's London sale on July 7, 2011.
The set of four ormolu-mounted Chinese Porcelain Baluster vases were purchased at auction for a total of more than $12.7 million including buyer's premium — a sum far exceeding twice the current world auction record for ormolu-mounted porcelain.
Wynn has a taste for the rare and valuable; the only known similar examples are in the collection of the British Royal Family. The vases will be displayed at Wynn's Cotai resort scheduled to open in 2015. A press release states that the purchase was inspired by Steve Wynn's "ongoing commitment to return artistic treasures to the People's Republic of China."
Wynn previously acquired a Ming glazed copper-red, pear-shaped vase, Yuhuchunping, produced during Emperor Hongwu's reign (1368-1398). That vase was later donated to the Macao Special Administrative Region and is exhibited as part of the permanent collection of the Cultural Affairs Bureau's Macao Museum.
Other important examples of historic Chinese art, including examples of ceramics, cloisonne and textile arts can be seen in the collections currently within
Wynn Macau and Encore at Wynn Macau
.
To learn more, visit
WynnMacauLimited.com
.