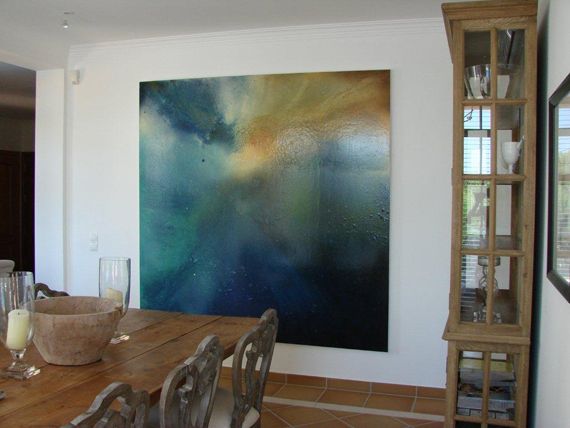 Photo Courtesy of Create My Art
When Jo Gourley moved home and struggled to find the perfect piece of art to decorate her new house, she decided to fix the problem by setting up her own business: CreateMyArt.com. It acts as a matchmaker of sorts, connecting talented artists online with those wanting custom-made pieces of art.


The website uses the concept of having artists bid for the work ensuring that art lovers can get their bespoke sculptures, canvases or textile pieces at their desired price. CreateMyArt.com, which launched last week, features more than 100 international artists including film director Stanley Kubrick's daughter, Katharina Kubrick, an accomplished oil painter.

From an abstract canvas, a garden sculpture or a huge, ceramic vase, art lovers can visit the site and create a wish list of their desired creation including the size, color scheme and budget range. They can even upload photographs that will help describe their vision. Artists are then able to bid for the work and can see the proposal prices from the other artists which results in their own prices becoming more competitive.

"CreateMyArt.com allows people to influence the creative process and enjoy a unique piece of art at an affordable price," said founder Jo. "It is for anyone that has ever stood looking at a large empty space in their home or office and had a vision of a piece of artwork that would look perfect, but lacked the skills to create it themselves."


If the artwork is a sketch or painting from a photograph, such as a pet or child portrait, CreateMyArt.com also has a range of sizes and styles for set prices. Art buyers receive a Certificate of Authenticity for each piece and are supplied with the details about the artist that created the work.

"As well as providing the perfect piece of art for your home or office, CreateMyArt.com is also a thoughtful and different gift for housewarmings, anniversaries, wedding presents and christenings, especially since we offer gift vouchers," said Jo. Visit CreateMyArt.com to learn more and get started.