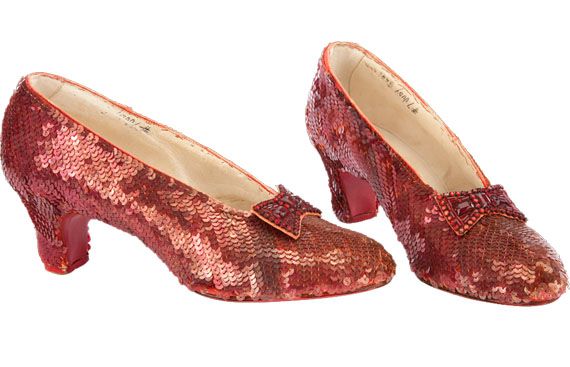 Photo Courtesy of Profiles in History
Auctioneers Profiles in History's upcoming "Icons of Hollywood" auction will feature the same pair of ruby red slippers that actress Judy Garland's character Dorothy Gale wore in
The Wizard of Oz
. The pre-sale estimate of the on-screen worn slippers is between $2 and $3 million. The three-day auction will occur in mid-December.
However, the exact location of the entertainment-
memorabilia auction
was not conveyed at this time. It will be provided in the next few weeks, according to the auction house. A spokesperson for Profiles in History also stated that four pairs of the on-screen worn ruby red slippers are known to still exist.
The Smithsonian's National Museum of American History in Washington, DC, which displays a pair in its "Icons of American Culture" exhibition, reports that the sparkling slippers have drawn so much interest from attendees that the carpet positioned in front of the enchanted footwear has been replaced numerous times. Another pair was stolen, in 2005, from the Judy Garland Museum in Grand Rapids, Minnesota, and never recovered. The fourth pair is privately owned by an unidentified collector and is not expected to go to market anytime soon.
Based on information from a source not affiliated with Profiles in History, the ruby red slippers going to auction are owned by Philip Samuels of St. Louis, Missouri. The speculation is made because the information provided by PIH is identical to that cited on various
online sources
. Specifically, on the inside of the right shoe is a hand written label, in black ink, in block letters that reads: "#7 Judy Garland." It also is rumored that these same slippers were used in close-ups.
The Calabasas, California-based Profiles in History represented the "Debbie Reynolds Collection," which sold for $23 million this summer, setting a new Guinness World Records recordation in this category. The three-day "Icons of Hollywood" auction will be held December 15-17, 2011. For more information on the event, visit
ProfilesInHistory.com
.