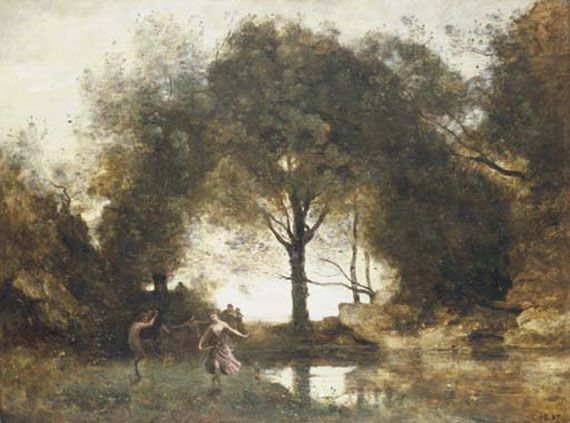 Photo Courtesy of Christie's
Auction house Christie's
announced sales for the week of more than $7.4 million. The auctioneer's 19th Century European Art auction brought in $6.61 million, with 47 of 106 lots offered being sold. Painter Giovanni Boldini's, Marthe Régnier (1905), an oil-on canvas work, was the highest selling lot at $1.88 million.
Jean-Baptiste-Camille Corot's Nymphes et faunes (1870), also an oil-on-canvas rendering was the second highest priced lot at $422,500 (shown above). The Muse (1861) by William Adolphe Bouguereau, which was the third highest priced lot, fetched $266,500.
"It's encouraging to see keen interest for the leading artists in this sale," said James Hastie, head of department for Christie's. "Boldini's Portrait of Marthe Régnier (right) was sold to a private European buyer for $1,874,500, while Jean-François Millet's Portrait of Madame Martin realized $230,500, indicating a strong market for Barbizon school paintings. There is growing interest in 19th Century European paintings from Asia; four of the top 10 buyers were Asian and Asian buyers contributed 20% of the overall sale value."
Fine Musical Instruments auction achieved sales of $1.329 million. One-hundred-and-seventeen of the 151 lots offered sold, which is a 77-percent sell-through of the items available. The auction occurred in New York on Friday, October 14, 2011. A classical guitar by Hermann Hauser Sr., Munich, 1940, selling at $152,500 fetched the highest selling price of the event. A mandolin-style guitar, Style F-5 circa 1923 sold, at $104,500. A violin by Joseph Gagliano, circa 1777, tapped out $92,500.
"There continues to be a strong appetite for good quality violins, bows and fretted instruments sold through our Fine Musical Instruments sale," said Head of Department Kerry Keane, in a prepared statement. "We were particularly pleased with the prices attained for the top three lots especially the 1923 Gibson F-5 'Lloyd Loar' mandolin (left), which is such a magnificent and important instrument. The entire sale was supported by international bidding from the phones, in the room, and solid online participation through Christie's Live." Visit
Christies.com
to learn more.