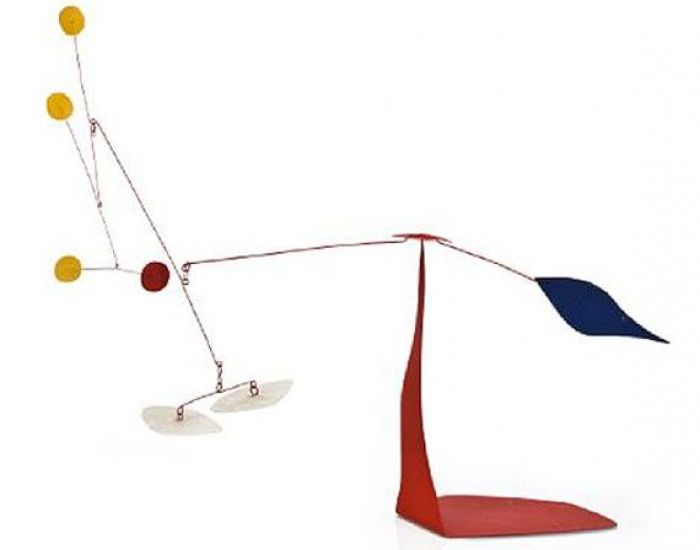 Photo Courtesy of Bonhams
One of Alexander Calder's distinctive mobiles, Deux blancs en dessous, is going up for sale at the Bonhams Modern & Contemporary Art auction on November 7 in
New York City
. The mobile was created in 1974 and measures 30x36x12 1/4 inches.
The red painted metal stand is dated with the monogram CA74. The sculpture is from the collection of actor Sam Robards who received it from his mother, the incomparable Lauren Bacall. She bought the sculpture in 1983 at a gallery in London. The sculpture carries an estimate of $400,000 to $600,000. Last year a Calder sculpture sold at auction for $6.35 million at Christie's.
The auction includes 116 lots across a variety of price points including two paintings by Japanese/French painter Leonard Tsuguharu Foujita; a strikingly bold two-part oil on canvas painting by Hérvé Télémaque, Untitled (est. $80,000-120,000) and a vividly colorful painting by Columbian artist Fernando Botero in Still Life with Oranges (est. $70,000-90,000). Check out
Bonhams.com
to learn more.
Bonhams
Léonard Tsuguharu Foujita
Bonhams
Herve Telemaque
Bonhams
Fernando Botero