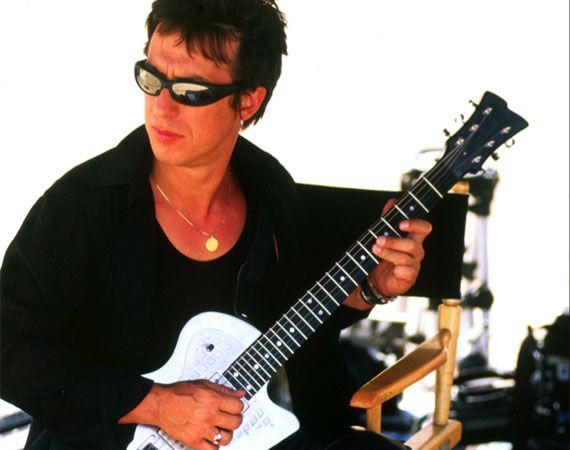 Photo Courtesy of Eric Serra
Music mogul Eric Serra has a wealth of experience from composing his own music for his band RXRA to being the founder of the EuroVoice competition to, what he is most commonly known for, his long list of music scores for blockbuster films. From his studio in his home in
Paris
, I spent a day with Eric Serra curious about his beginning that led him down this path of success, and where it will taking him next!
It was the chance meeting of director Luc Besson (right) that launched Serra's career in the movie industry. I should say sky-rocketed his career, with such titles as
The Fifth Element
(1997),
The Professional
(1994), and
La Femme Nikita
(1990), Serra has composed music for all but one of Besson's films in his entire history as film director. Further impressive is that young Serra at that time did not consider himself a composer, explaining to Besson, as if almost not accepting the job, "well, I'm not a composer, I am just a musician." Luckily, Besson was so impressed with Serra that he encouraged him to give it a try, leading to this marriage made in heaven where the two have collaborated their film and music for well over two decades now.
"Luc knows exactly what role he wants the music to play in the movie, for each scene. And that is probably why we work well together, because he talks about emotions. The way I work with music, even the way I listen to music, to me is emotional," explains Serra of composing for director Besson. "That is my only concept of music. When I compose I am just expressing emotions."
Serra describes that when composing, he is responsible to create an emotion to enhance what the director envisions. Another example of this is the music Serra produced for the show
Believe
by Criss Angel and Cirque Du Soleil on stage at the Luxor Hotel in Las Vegas. The Cirque illustrates how "Serra takes the listener on a thrilling, dreamlike exploration beginning with sounds of vintage children-inspired melodies to rock and gothic moments with heavy, industrial, electronic beats to classical and operatic influences."
Serra has composed music for a variety of movie genre, such as action/adventure
Golden Eye
(1995) of the James Bond mega hit film series, or animations
Arthur 3
and
Tarzan
where he had the opportunity to work with the legendary Phil Collins. "I'm good friends with Peter Gabriel, and so it was nice to meet the other Genesis," jokingly stating since he knows the two "now I know all the secrets of the original Genesis."
We sit in front of his monstrous digital recording soundboard and discuss how he has come a long way in his career, yet Serra is humble when reminiscing with me his fascination with music as a child. Serra is not sure when it all began for him as he does not have much memory before age seven, when his mother unexpectedly died.
"It is completely bizarre, I don't have any memory of my mother," reveals Serra. I ask if she has influenced his music, at least on some unconscious level? Serra answers "probably yes," continuing as if talking about someone else, "losing your mom when you are a child is a big thing. That probably does influence you your whole life. Especially when you are an artist."
Serra walks me down the studio hallway of walls filled with guitars while elaborating on a few and their significance. One is his first guitars he received when he just was five years old. Then Serra's first electric guitar he purchased when he was eleven. Serra pointed out a few that were gifts, like the one from Luc Besson purchased in Bora Bora. All I could think is if these guitars could speak words, oh the stories they could tell! For now, we can only try to translate the tunes Serra strums from them.
When I asked Serra what he prefers to do, compose music, lyrics or perform, without hesitation his answer was performing. "That is something I really love!" Serra describes performing on stage as a trance-like feeling, "when I play with my band, I close my eyes and we're gone! The audience, they can feel this and they love it! It is my favorite thing in life!"
More recently as founder and president of EuroVoice, an interactive televised music competition, Serra has created this annual contest with a web site where new talent can be found and where musicians can simply share their music. EuroVoice 2010 Finale, televised from Athens, Greece, to over 20 countries, was hosted by Serra and Pamela Anderson, and included performances by contestants as well as special guest Enrique Iglesias. Launched just last year, it is quite a production with a bright future for the stars of the future. Registration is already underway for the 2012 competition.
Serra is looking forward to his next concerts with band RXRA, one scheduled November 18 in Avignon, France. Then off to the Ukraine where RXRA will be in Donetsk December 6 and Kiev December 7, with special guest
Assia Ahhatt
. Serra will also be starting to work on his new album for RXRA this year as well.
Need more Serra? Visit
EricSerra.com
and
EuroVoice.tv
. For a show you have to see to
Believe
, go to Criss Angel Believe at Luxor in Las Vegas.
RXRA
You make my mind wonder, go astray
In a trance, I fade away
For Serra's music, I am the prey
-Slavica Monczka