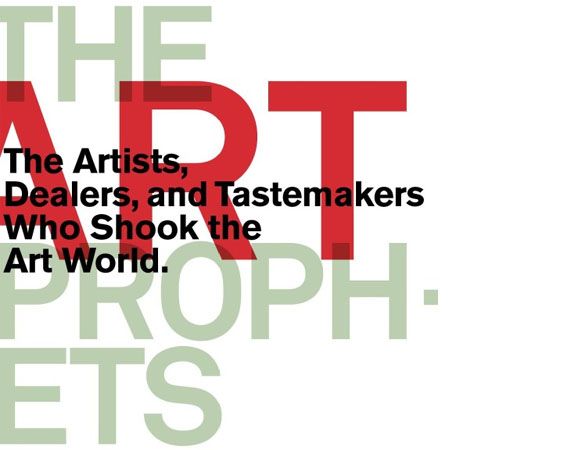 Photo Courtesy of The Other Press
Who are the art prophets? They are the ones who see, and help create a shift or a changing moment in the art world. In his latest book, PopArt chronicler Richard Polsky rounds up some of the great visionaries of the art world—the dealers, artists, writers and others who had that rare ability to sense the beginning of a movement and birth it into existence.

From Ivan Karp, who helped pull together the beginnings of PopArt to concert promoter Bill Graham to Stan Lee who forever changed the way we view superheroes and helped inspire the rise of the graphic novel, Polsky's prophets are game changers across all of popular American culture.


Revolutions are sequential; each generation is inspired by the previous one, adding new ideas and ways of doing things to the mix. Take for example, artist Shepherd Fairey—his lineage could be traced through Ivan Karp (right) to Andy Warhol, but you could also argue that the concert posters of Bill Graham and Stan Lee's superhero iconography also played a role in his evolution. Both artist and businessman and the 1980s career trajectories of Keith Haring and Jean-Michel Basquiat showed how art could exist both on the street and in the gallery. Over time what we consider art changes too, as photography and ceramics take their place in the galleries and auction houses.

Polsky has great affection not just for the artists but for the dealers, thinkers and critics. Although he has spent his life in the art world, he seems far from jaded and his enthusiasm and respect for the creative process is evident. But creativity isn't just in the art itself, it is in the culture surrounding it. What the book clearly shows is that it takes more than just a beautiful or provocative object to start a revolution; it takes a charismatic figure to move things forward.

As an art dealer, Polsky's view of art success is naturally a commerce-centered one; influence is measured in price. But as Polsky points out late in the book, "an art movement is only as good as its artists." Art movements are always changing and transforming, but what remains is the relationship between the art and artist. Visit Amazon.com to learn more and purchase this book.