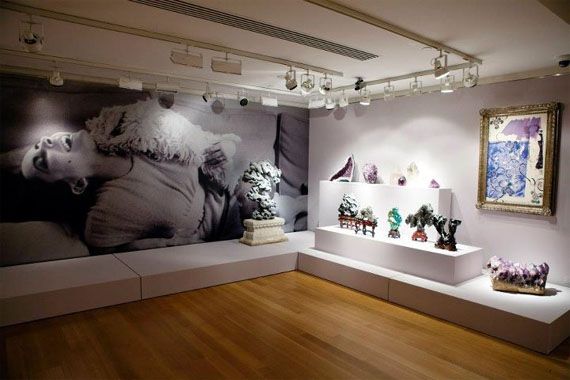 Photo Courtesy of Christies
The complete
Collection of Elizabeth Taylor at Christies
sold for a total of $183.5 million. The overwhelmingly successful three-part event sold out 100 percent, with seven lots selling at more than $5 million and 30 lots bringing in more than $1 million. Many of the items auctioned sold for significantly more than the pre-auction estimates.
The two-day Impressionist and Modern Art portion of the auction concluded Wednesday, February 8, in London. Thirty-eight works of art from Miss Taylor's personal collection resulted in sales of more than $24.6 million. Vincent Van Gogh's
Vue de l'Asile et de la Chapelle de Saint-Remy
was the top selling-item at $15,991,575.
In recapping total sales for the complete Collection of Elizabeth Taylor, Christie's New York sold Ms. Taylor's collections of jewelry, fashion, decorative arts, and memorabilia last December at $156.8 million. This set a world record for the most valuable sale jewelry in auction history. It also established a new record for the most valuable collection of fashion at an auction.
The prominent auctioneer's first online-only portion of the auction, which ran concurrently, took in $9.5 million. More than 57,000 bids came in from the firm's inaugural online-only activity. "It has been an incredible honor for Christie's to present this storied collection to the global collecting community," said Marc Porter, chairman, Christie's America, in a prepared statement to the media.
"From our initial announcement of the collection sales last summer in New York, to the worldwide tour of the collection highlights last fall, to the last rap of the auctioneer's gavel today in London, the global outpouring of affection and admiration for Elizabeth Taylor from fans and collectors alike has been amazing for us to witness. We are grateful to the trustees of her estate for entrusting Christie's with this one-of-a-kind collection, which will go down in history as one of the most successful private collection sales ever presented at auction." For more information on the complete Collection of Elizabeth Taylor, visit
Christies.com
.