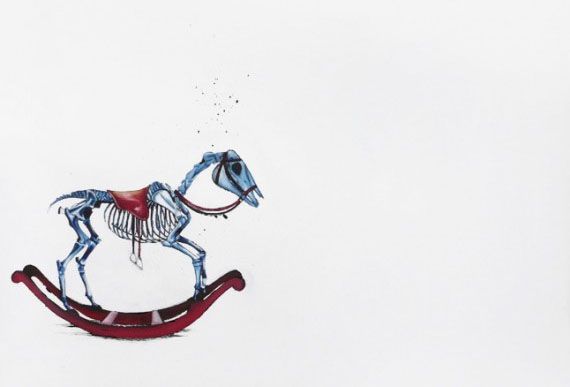 Photo Credit: Candice Tripp
South African born
artist
Candice Tripp creates oil and ink visions of eerie fairy tales in her imaginative representations. After moving to London in 2004 in hopes of pursuing a fashion career, Candice Tripp has since become "a full time painter lady." In a magical land of twisted tales, Tripp's drawings are put on the page in oil and ink, with realistic, almost cartoonlike, intensity. The viewer is instantly reminded of illustrations in children's books but simultaneously slightly repelled by the macabre spin she puts into the images.
Definitely enchanting and somehow familiar, Tripp's works are executed in miniature, drawing out the fables and lessons learned in childhood, but with a grown-up point of view. Some paintings seem to be an uprooted sense of childhood, including a skeletal rocking-horse that is "Still Rocking" or forestland creatures doing anything but frolicking. Rather, the images are almost Richard Burton-esque in their desire to be at once playful and scary and tinged with the tiniest bit of humor.
Over all, Tripp's art is edgy and modern while she uses traditional means of artistry and is inspired by traditional fairy tales and folklore. Most works use a negative white space as background, drawing the viewer in to illustrations that could seemingly be found in the pages of any classic children's book. Maybe this painter lady has really found where the wild things are — in her imagination. Tripp's trippy works are frequently put on display by Black Rat Projects, an art gallery in London. Visit
CandiceTripp.com
to see more.
"Can You Smell Burning?"
"A Moment Of Dark Surprise"
"It's Time For Tea And Sycophancy"
"An Unfair Advantage"
"Tyronne Told Me To Do It"
"The Luxury Of Being Left Alone For A Little Bit"
"The Floor In Harriet's Head Started To Tilt"
"Poor Kids Share"
"In Frog She Trusts"