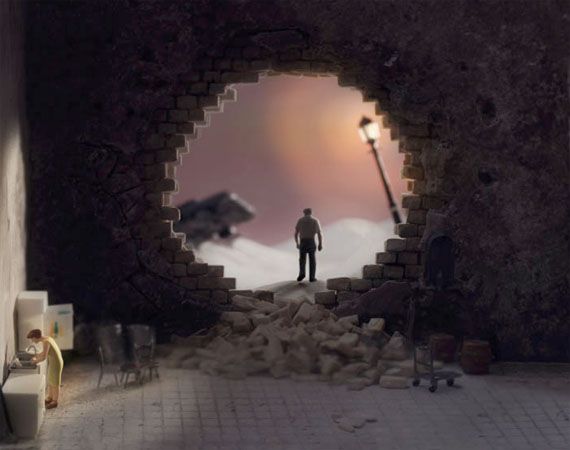 Photo Courtesy of PPOW Gallery
The artistic team of Walter Martin and Paloma Mu?oz has once again come together for their latest
art exhibit
,
Night Falls
.
Night Falls
is the eighth collaboration for the two, who often create dystopian images through photographs and sculptures and creative snow globes.
Best known for contrasting pristine settings with grim scenes, for much of the
Night Falls
exhibit, the duo has created a dystopian, nightmarish "Kinderland" inspired by the bad dreams a child might have. Focused on the dark,
Night Falls
features fires, flashlights and moonlight set against a dark background. The interplay between dark and light highlights the characters featured in the exhibit, which include an unusually large black dog, roaming "tree children" who don't appear to have the benefit of parents, and a not so kindly depiction of priesthood. Set against predominately snowy and blizzard covered backdrops, each image and sculpture seems dreamlike and yet has a heavy dose of near reality. The use of light to focus on a subject in each scene creates the mood.
Since meeting in 1993, Martin & Mu?oz have had many joint works that have been shown around the world, including: Museo Nacional Centro de Arte Reina Sofia in Madrid, the Nerman Museum of Contemporary Art in Overland Park, Kansas, and the KIASMA Museum of Contemporary art in Helsinki, Finland. Recently their work was featured in group exhibitions at the Bellevue Arts Museum, Bellevue, Washington, the Museum of Art and Design, New York, NY and the University of Michigan in Ann Arbor, Michigan. Visit
PPOWGallery.com
to see more.
"A Wandering Light"
"Pretty Birds"
"In the Doldrums"
"Nature's Child II"
"Black Dog"
"Nature's Child I"
"Odd Couple"
"Another Morning"
"The Honeymooners"
"The Search"