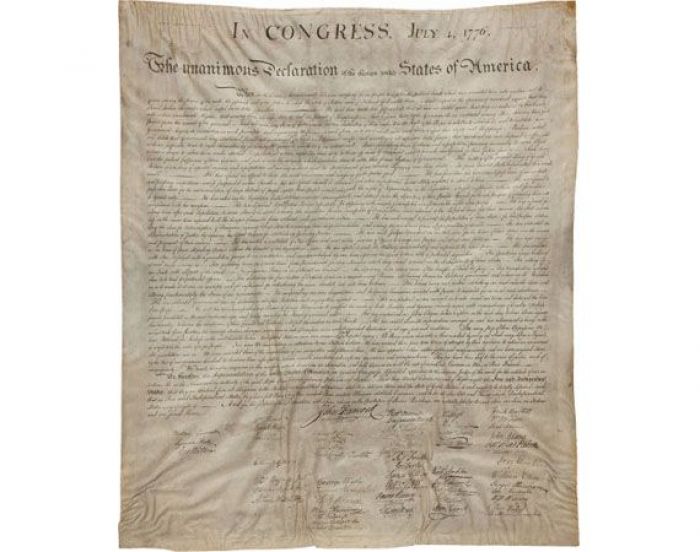 Photo Courtesy of Heritage Auctions
Many collectors came with buying intentions for the opportunity to bid on a rare, parchment copy of the Declaration of Independence on the auction block at
Heritage Auctions
' Historical Manuscripts Signature Auction, in New York, on April 11, 2012.   
A 19th century cooper-plate printing of the Declaration of Independence, made to celebrate the nation's 45th anniversary, sold for $597,500 in a public auction yesterday. The purchaser of the coveted commemorative is an anonymous buyer from the East Coast. The item sold for more than twice its pre-auction estimated selling price.
Engraver William Stone engraved and printed the liberty-inspired collectible. Only 200 of the official parchment copies were made. However, Stone did make one additional copy for himself. "ENGRAVED by W. I. STONE for the Dept of State, by order" is the identifying mark that appears the upper left corner. "J.Q. ADAMS, Sect. of State July 4th 1824" is on the upper right side. All of the copies made contained that descriptive attribute. 
"We know from a 1991 census of the manuscripts that there [are] 31 total known to survive, with only 12 copies in private hands," said Sandra Palomino, director of historic manuscripts for Heritage. "This auction represented a singular chance for someone to acquire a prime piece of American history and collectors jumped at the chance."
A Thomas Jefferson presentation copy of A Manual of Parliamentary Practice, with an accompanying letter signed by Jefferson, acknowledging the book being given to Judge Francis T. Booke from him, sold at $113,525. This and a George Washington-signed copy of A View of the History of Great Britain during the Administration of Lord North, which netted $101,575, was the third highest priced item sold at the event. For more information, visit
HA.com
.