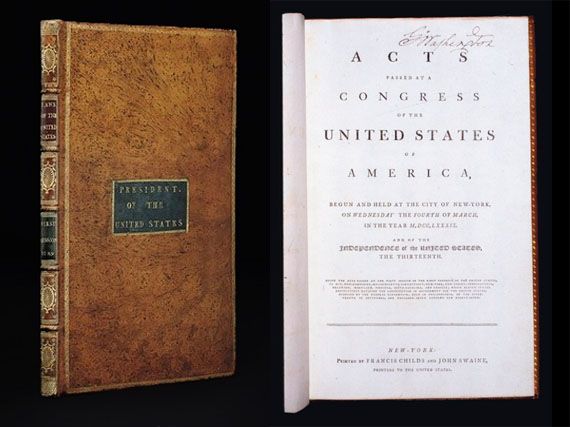 Photo Courtesy of Christie's
Christie's will
auction
an artifact of American history that was the personal property of the country's first president. This book, made especially for President George Washington, has a personal copy of the Acts of Congress, including the Constitution, and a draft of the Bill of Rights. The book, which also contains George Washington's signature, is going to be sold at auction in New York City, on June 22, 2012. The pre-auction estimated sales price of this item is between $2 and $3 million. The 223-year-old historic collectible is in "near-pristine condition," according to the auctioneer. 
A New York-based bookbinder of the era, Thomas Allen, made two similar volumes of the commemorative book for U.S. Secretary of State Thomas Jefferson and U.S. Attorney General John Jay. A private collector owns Jay's volume. Jefferson's copy is on display at the Lilly Library in Indianapolis, Indiana.
Washington's copy of the Acts of Congress is being offered for sale through the Dietrich American Foundation. Americana collector Richard Dietrich, the founder of the Dietrich American Foundation, acquired the historical memento from the Heritage Foundation of Deerfield, Massachusetts, in 1964.
Books and manuscripts relating to U.S. presidents have established record prices at Christie's. In February 2009, an autographed manuscript of Lincoln's election-victory speech in 1864 sold for $3.44 million. A letter written by Washington to his nephew, Bushrod Washington, sold at $3.22 million in December 2009. For more information, visit
Christies.com
.