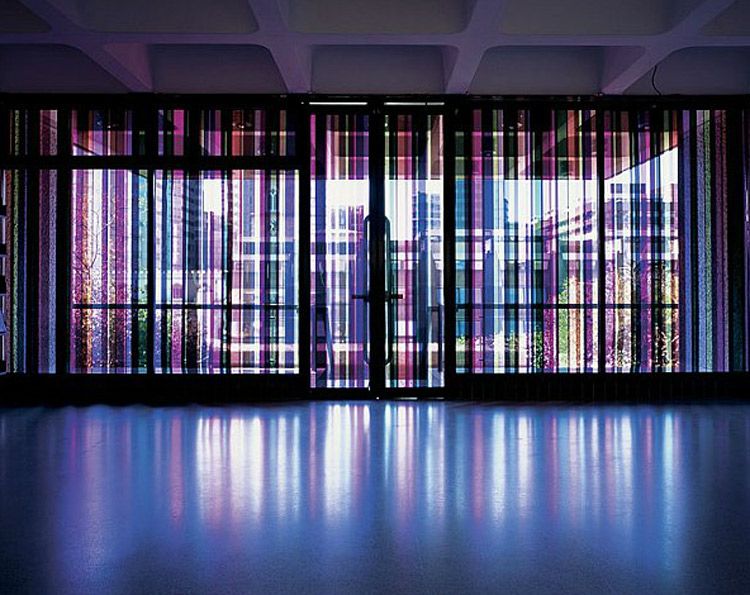 Photo Courtesy of Spencer Finch
Spencer Finch, perhaps best known for his contemporary light installations, is a rare combination of
artist
and scientist, maker and philosopher. With his work, Finch seeks to capture the fleeting, the invisible, and the mundane, but most of all, Finch attempts to capture and recreate the atmosphere in which we experience the world. During a period of time, Finch travelled to places that have both ignited the imagination and been residence to some of history's most talented artists and writers, measuring and capturing light as if attempting to bottle the spirit of creativity itself.
Emily Dickinson's home in Amherst, Massachusetts, Ingmar Bergman's apartment in Stockholm,
Monet's Garden at Giverny
, and the Los Alamos desert in New Mexico, which inspired Homer, were all places Finch visited. Using a specialized meter he measured the exact color and range of lighting in the area. With the information he needs Finch meditates on the perception of the contrast before choosing materials that will enable him to recreate their effect on the human eye. Light is one of the biggest elements within a painting, drawing, or photograph—it carves forms and shapes from the shadows, creating sharp or soft relief from a scale of tones.
With care, Finch carefully reconstructs the invisible, yet with his installations, proves that it is the seemingly undetectable that lays the foundation for wonder. In his work,
West (Sunset in My Motel Room, Monument Valley)
Finch uses a channel synchronized video installation on 9 television monitors. With the glow from the televisions reflecting off the wall, the effect is meant to mimic the setting of a sun from within the dimmed light of a motel room. Similarly, Finch uses fluorescent light boxes and laminated filters to create the sensation of multidimensional luminosity on water in
Kaaterskill Falls (July 30, 2006, 12:37 PM)
.
In the way that a scientist captures an animal for research, studying its structures and labeling its parts, Finch captures the world around us and seeks to explain why we experience it in the way that we do.
Taxonomy of Clouds, 2006
, a series of framed inkjet prints of many different cloud forms, is a perfect example, in both its classification and presentation, of the almost scientific nature of Finch's process. Finch's
Dusk (Hudson River Valley 10/30/2005)
uses not only light boxes, but also filters, clothespins, and fishing line.
Whether Finch has created a drawing, a painting, or a mixed-media installation, it seems that his message is not to mindlessly recreate, but to leave a sense of absence, a blank space, where we ourselves mentally fill the void. TV monitors facing a wall and a labeled plate reading "Dusk in My Motel Room," are just that, a group of TVs and a label, but together they ask us to conjure our own memories of dusk, of hotel rooms, and of receding light.
To learn more about Spencer Finch and his work visit
SpencerFinch.com
.