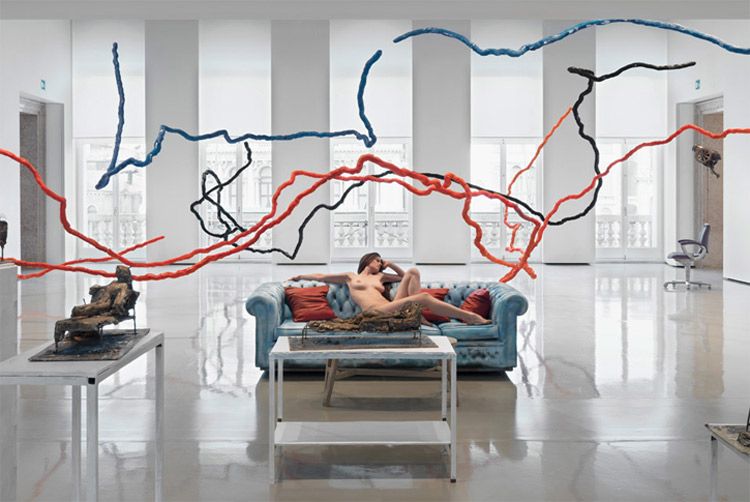 Photo Courtesy of Urs Fischer
Spring ushered in a racy new exhibit which is on display at the Palazzo Grassi in Venezia, Italy. The exhibit features works by contemporary Swiss artist Urs Fischer. The artist, who was born in 1973, is best known for large-scale installation and sculptures that have been placed in special collections around the world, including the
Whitney Museum of American Art
in New York City. Fischer is the first living artist to be honored with a one-man show at the Palazo Grassi, and the exhibition will work alongside a bevy of cultural activities including collaboration with students from the Accademia delle Belle Art di Venezia.
A rarity, Fischer did not attend art school; instead he allowed art to reveal itself gradually to him. "Actually, I'm only starting to learn about
art
art now," Fischer remarked in an interview with Gavin Brown for
Interview
magazine. His
art exhibit
titled, "Madame Fisscher," will feature thirty of Fischer's works that belong to both the Pinault Foundation as well as international art collectors. The collection is set in the center of the Palazzo Grassi' s main atrium, allowing visitors to view the work from several levels above.
There, Fischer's installation,
Madame Fisscher
which inspired the exhibition title, sits within four walls and serves as a representation of Fischer's studio, showcasing a multitude of sculptural elements. However, it is Fischer's
Necrophonia
installation piece for the Italian museum that has caused the most commotion— it features a live female model, who is displayed nude reclining and moving beside sculpted studies. The model's juxtaposition with her surroundings is meant to express the organic nature of the body and works as commentary on the way art is experienced both publically and privately.
In a sense,
Necrophonia
represents the exhibition as whole, which features the span of Fischer's work from 1990 to present. The installation is meant to express the passage of time as well as art's transient nature. The exhibit will run from 15 April until 15 July 2012. To learn more about the exhibit visit
Palazzograssi.it
.