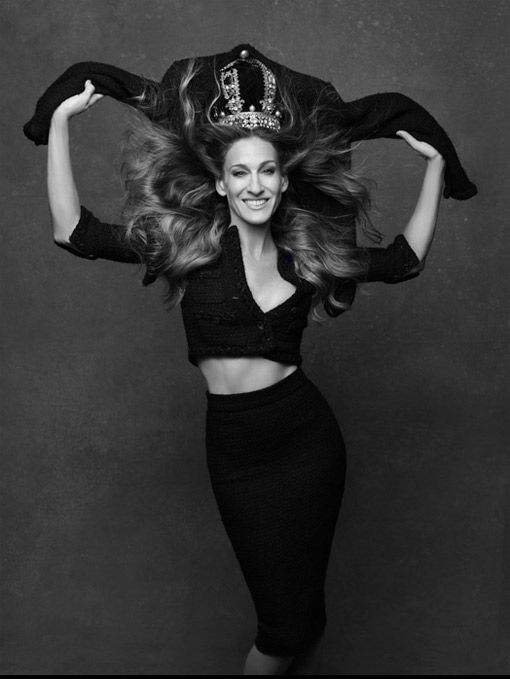 Photo Courtesy of Chanel
Karl Lagerfield, one of the world's most
iconic fashion designers
, is always up to something and he's currently getting ready to celebrate the launch of his upcoming book The Little Black Jacket: CHANEL's Classic Revisited By Karl Lagerfeld and Carine Roitfeld, with an exhibit of the fashion classic in New York City. The exhibit features the iconic Chanel creation as center stage in a series of photographs shot by Karl Lagerfield. From Tokyo to New York, the little black jacket has long held a firm grip in the world of fashion.
The versatile coat is worn by celebrities and personalities in ways that are traditional as well as unexpected. In the pages of the much anticipated book, Chanel's classic jacket is worn as a headdress by American actress Sarah Jessica Parker, wrapped around model Joan Smalls, as well as modishly adorned by Yoko Ono. The jacket is paid tribute by other famous bodies as well, showcasing the remarkable versatility of a garment that has withstood the test of time.
Chanel has had a long standing relationship with famous characters, which is showcased in the 113 photographs that fills the book. The exhibition will be open to the public from June 8 to June 15, 2012. The website is constantly being updated, as it is a travelogue of the Little Black Jacket project, showcasing everything from how the iconic jackets are created to how the project came about as it is released around the world.
In keeping with the exhibit and book release, window displays in CHANEL boutiques will present a selection of jackets from the Paris-Bombay Métiers d'art collection, and the iconic jackets will be specially placed in the stores.
To learn more visit
TheLittleBlackJacket.chanel.com
.