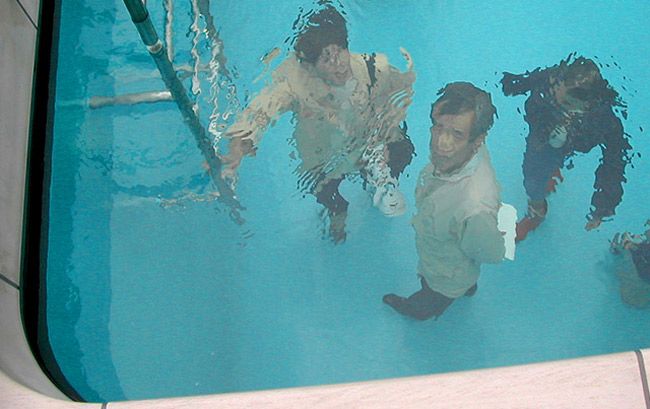 Photo Courtesy of Sean Kelly Gallery
Argentinean sculpture artist, Leandro Erlich's unusual combination of art and architecture take inspiration from the literary influence of Jorge Luis Borges. Like Borges, whose work traverses in the realm of impossibility, Erlich attempts to alter the way we view the world, creating installations that both distort and upend. Erlich also makes mention of directors Alfred Hitchcock, Roman Polanski, and Luis Bu?uel in his art. Erlich's sculptural installations are meant to be experienced and explored and often encourage viewers to discover how the piece interacts within their own perception of reality.
Erlich's works can be found in the Museum of Modern Art in Buenos Aires, the Houston Museum of Fine arts, the Tate Modern, Musee d'Art Moderne, among many others across the globe. Erlich's "Swimming Pool," was finished in 2008 and is housed at P.S.1 in the Contemporary Art Center in New York City. Using mixed media, Erlich built a full-scale pool including a deck and latter. The pool is filled with a depth of what seems to be softly rippling water; but instead, viewers remain dry while accessing the bottom of the pool from a side door.
The piece employs a shallow layer of water that lays suspended between layers of glass. Viewers on the above ground deck can look into the pool as the forms of "swimmers," are distorted beneath the turquoise surface of refracted light. Conversely, those at the bottom of the pool can look up from the pool depth at the world above, playing into Erlich's commentary on perception and interaction.
In an interview done by Alanna Heiss with the artist for the
P.S.1 Newspaper
, Erlich describes his work saying, "I am interested in the architecture as the background of our daily experience: an emotional architecture. I think of ordinary spaces as the stage for a play. The play is, of course, our lives: we are continually interacting and in dialogue with our habitat."
In addition to the many modern art museums that have Erlich's art in their collections, his works can also be found in several private collections. To see more of his installation pieces visit
SkNY.com
.