Slavica Monczka View Profile

Fashion & Lifestyle Correspondent | Seductively French
Exclusive Interview | "Dancing with the Stars" Gilles Marini Gets "Down and Dirty"
Nov. 21st, 2012 | Comments 1 | Make a Comment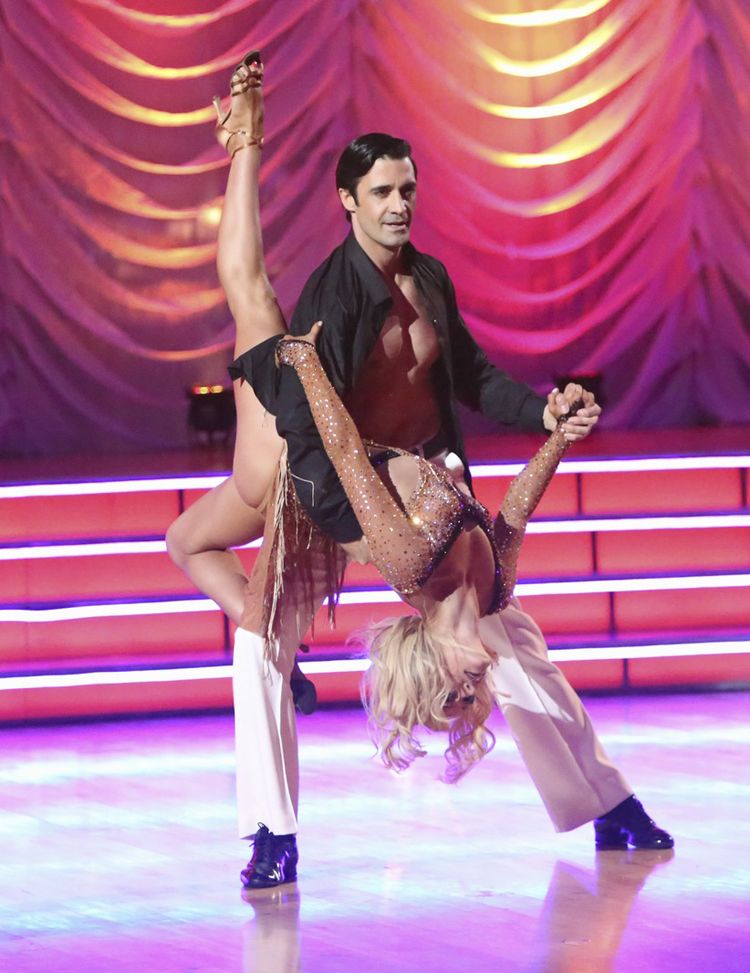 Photo Courtesy of ABC | Adam Taylor
I find it ironic that we are becoming more intimately familiar with actor Gilles Marini since his career-launching role as Samantha's hot, often nude, playboy neighbor in the 2008 "Sex and the City" movie. Surprisingly, my interview with Marini defined him as so much more than just the latest Adonis, here today, gone tomorrow, Hollywood heartthrob. Marini is a devoted and down to earth family man, and a grateful, hard working, talented actor, giving him what it takes to continue to expand his career. "Everything I do, I do it with my heart," explains Marini. "I just don't know how to do anything without passion." Marini shared details as a contestant on "Dancing with The Stars", what he desires for his next roles, and some things most don't know about his home life.
"Let's do it, baby," Marini exclaims as we start the interview. We've all taken note of his positive attitude and energy on "Dancing with the Stars" (DWTS) that after this interview, I couldn't help but be certain he wakes up every morning saying this to each dawn of a new day. "It's probably the most uplifting thing I've ever done in my life as an artist," Marini reveals of being a contestant once again on this All-Star season of DWTS. "I wish everybody could experience this. It's exhilarating, it's phenomenal! It was a blessing to be a part of this." Unfortunately, his performances have now come to an end as Marini was eliminated last week along with Kirstie Alley.
Without a doubt, it was good looks and sex appeal that launched Marini's career as Samantha's sexy neighbor Dante in the first "Sex and the City" (SATC) movie, a role that required some lovemaking and nudity (lucky for us). I know I speak for millions when I admit that those scenes of Marini in that movie are ingrained in my mind forever. In the shower rubbing his body, water splashing as he glances over his shoulder with an invitation to join. I made you smile at that thought right now, didn't I? 
"I love acting as it gives me the ability to be someone else, and bring out emotions," Marini reveals, "I am just here to make people feel." Good answer, because we're feeling it! Marini just completed two seasons in "Brothers & Sisters" on ABC as the handsome and charming Luc Laurent, a role he admits has been his favorite thus far. "Being able to work with Rachel Griffiths, Sally Fiends, Calista Flockhart, all those people were incredible to me. I had a blast and I learned a lot."
This season on DWTS, Marini was paired up with Peta Murgatroyd. "Everything I dreamed having in a partner I had with Peta," he states. "She understands my dedication and my passion towards it (dancing)." However, it wasn't enough as Marini has been eliminated. He clearly stated his disappointment and apologized to his fans because the win would have been for them, he tells me. "I really wanted the American audience to understand that I was not doing this for me. All the people that called for me, were extraordinary in my life because I felt the love," Marini emotionally confesses. "We gave it our all."
Photo Courtesy of ABC | Adam Larkey
Hollywood is saturated with beautifully talented people, so much so that to stand out and not end up a has-been takes much more, which is why that revolving door into the glamorous world of celebrity fame is perpetually in motion. I suppose this is both good and bad as we are always hungry for a new talent and a much deserving rising star. We've seen that something special, that "je ne sais quoi," in numerous incomparable actors and personalities from Charlie Chaplin, to Marilyn Monroe and Al Pacino, just to name a few. A rare trait each owns that sets them apart from all the rest is the secret to their success. For Marini I believe the secret lies in his perseverance, his positive attitude, and the passion he emanates for all of life in general.
Since Marini's role in "SATC The Movie", his bio lists roles in notable television series such as "Modern Family", "Hot in Cleveland", "Brothers & Sisters", and "Switched at Birth". However, his new desires may end up taking him behind the camera next. "I think I want to start to produce more, create shows, and try directing," Marini discloses. Until then, he is on the look out for a more significant acting role to partake in. "I'm reading scripts everyday. I really want to have something that is meaningful, that is deep, and different than what I have done before," he clarifies.
Photo Courtesy of ABC | Adam Taylor
With any path Marini takes, one thing that will remain consistent is his drive and determination. "Sweetheart, I have passion with everything I do in my life. Let me explain."
"Please do," I ask, "and take your time to articulate what all this passion is about." Sitting at the edge of my seat, my heart began to beat faster, eager to hear him recite something I would read in a love story. Better yet, being that I'm imaginative, all of a sudden, Marini is Dante and I, Samantha.
"I have chickens at my house." This is where you would hear a needle slide suddenly, scratching a record.
"You have what?" I asked.
"I have chickens. You know, little hens," he describes to me as if I didn't understand his cute French accent. "I have a chicken coop, a lot of fruits and vegetables in my garden, and I don't have a gardener. It's just my son and myself and we are taking care of them. Because I'm passionate with everything I do."
The Marini estate surprisingly includes rabbits in addition to those chickens, along with "20 different fruits and vegetables," right there at their home in the middle of L.A. "I'm down and dirty with everything," he laughs, and "I'm kind of a farmer." If there was ever any doubt this sweet man needs to be cloned, read on.
Photo Courtesy of ABC | Adam Taylor
What stood out the most during my meeting with Marini is his love and devotion to his wife, Carole, of thirteen years and their two children. "My wife is the center of my world," he says sincerely. "If I don't have her, I would just not be able to do what I do. The only balance I have in my life is the kindness and the love my wife brings, and the stability my wife brings to this family. She is the pillar, the hero, of the family."
We congratulate Gilles Marini for all his accomplishments as an actor, a humble and devoted family man, and as a new citizen to the USA. "I'm an American actor with a French accent," he proudly states. He is a grateful contributor to our country and an inspiration to us all. "Sweetheart, I came here with no English, with absolutely nothing. And now, doing what I do today, I am more than thankful. It's a miracle."
For more on Gilles Marini and where we can keep watching him, visit GillesMarini.com
Photo Courtesy of ABC | Adam Taylor
Photo Courtesy of ABC | Kelsey McNeal
Read More on
GillesMarini.com
You might like :
Arts & Culture
Finding the best in luxury can be a daunting task, which is why we've taken it on for you.
LET'S CONNECT LUXURY NEWS & MORE