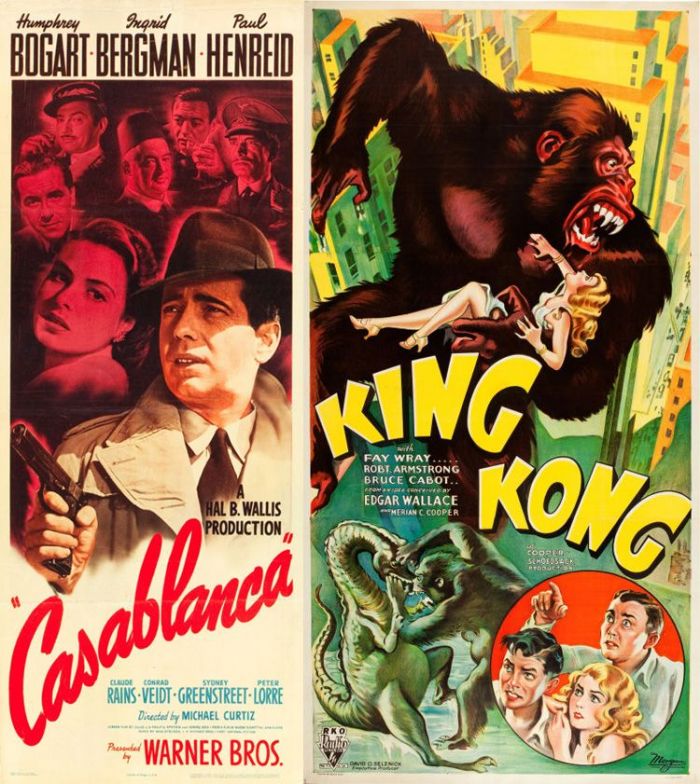 Photo Courtesy of Heritage Auctions
Auctions gone wild remains a daily attention-grabber with lots selling at higher prices than ever being reported before. It is happening in so many categories in this year that it would require a bullet-point list long enough to fill the space reserved for this entire piece.
Movie and film memorabilia is today's category for record-setting sales to report from the high-end auction market. The recent Heritage Auctions' vintage movie-poster event took in more than $2.21 million, selling 94 percent of the lots presented. The auction took place in Dallas, Texas, on November 29, 2012. 
King Kong ruled the lots! A poster from the 1933 film sold at $388,375. An insert poster from the 1942-made film classic, Casablanca, tapped out at $191,200. A 1928-produced poster of Mickey Mouse sold at $101,525. There were various posters that raked in more over $10,000. 
"The stellar price realized for this King Kong poster was fully more than four-and-a-half times the pre-auction estimate of $80,000 plus," said Grey Smith, director of vintage movie posters at Heritage. "It's simply an astounding piece of art that transcends its category and subject matter, which just happens to be one of the greatest films ever made."
Other noteworthy items sold included several movie posters and promotional items that sold for more than $20,000. It was an extravaganza of sorts, as reported by Heritage's staffers.
"The enthusiasm among collectors was nothing short of tremendous, especially among the best individual examples in the sale, as evidenced by the tremendous heights that collectors were willing to scale to obtain them," said Mr. Smith, on the mood of the gathering.