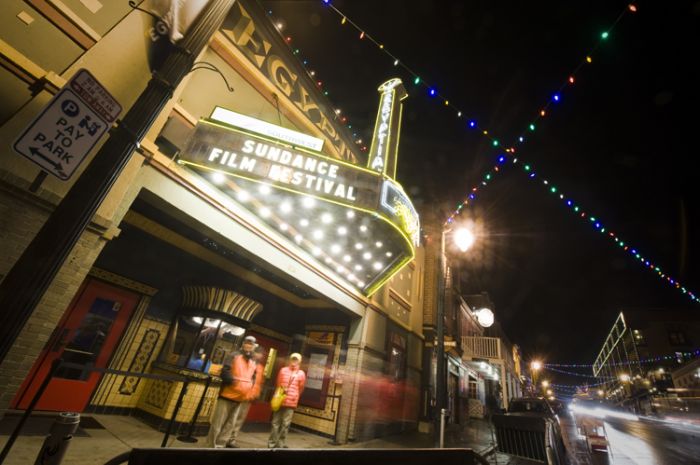 Photo Courtesy of Sundance Film Festival
It goes without saying that if a film is screened at Sundance, it has a very good chance at making it big. There have been many high-profile films that first started at this festival, including
Reservoir Dogs
,
Little Miss Sunshine
,
Memento
,
The Usual Suspects
, and
Clerks
, so I wouldn't be surprised if we have another monumental hit among the films premiering this year.
There are 18 films in Sundance's Premieres category, with many of them already garnering tons of attention for various reasons, and these are the titles I'm definitely catching in the theater.
jOBS
When Ashton Kutcher was cast as Steve Jobs in the upcoming biopic
jOBS
, directed by Joshua Michael Stern (
Swing Vote
), interest in the film skyrocketed. Many doubt the actor's ability to pull such a large role off, making it a huge landmark in Kutcher's career...hopefully for the best. Telling the story of how Jobs changed the way we live, following him from his hippy days to his time as a CEO, early remarks on the film have been positive regarding Kutcher's nuanced performance. However,
jOBS
has some competition in the form of Aaron Sorkin (you know, the guy who wrote that little flick
The Social Network
), who's planning a pretty unorthodox representation of Steven Jobs' life, told in three scenes shot in real time - it's also considered the official biopic since it's based on
Steve Jobs: The Exclusive Biography
written by Walter Isaacson.
jOBS
may be released first (some time in 2013), but it's who does it best that is remembered so we'll just have to wait and see.
Before Midnight
Director Richard Linklater is best known for his films
Before Sunrise
(1995) and
Before Sunset
(2004), which give us brief glimpses at the lives of strangers Celine (Julie Delpy) and Jesse (Ethan Hawke). We see them first meet on a train in Europe in the first film, which follows their one night together, and then nine years later, they meet again and spend the day together. Now, nine years since their last rendezvous, they meet again in Greece. Anyone who is a fan of these enchanting character studies probably can't wait to see how these characters have changed and evolved in the past nine years. Their lives and chance encounters have made for one of the greatest love stories we've seen in American cinema and after all this time you can be sure that Delpy and Hawke have perfected the art of onscreen chemistry.
Big Sur
Jack Kerouac has been getting a lot of attention this year and whether you're happy about that or not (I'm talking to the purists who freaked out when Kristen Stewart was cast as Marylou in this year's
On the Road
) doesn't really matter because the movies are here. Next up is
Big Sur
, directed by Michael Polish, which concentrates on the events that led Kerouac to write the book of the same name. Overwhelmed by the success of
On the Road
and dealing with alcoholism, Kerouac (Jean-Marc Barr) hides up in Lawrence Ferlinghetti's (Anthony Edwards) cabin in Big Sur, California, only to get bored with his moments of solitude and ends up heading to San Francisco where he starts a relationship with Neal Cassady's (Josh Lucas) lady, Billie (Kate Bosworth). The film is full of larger-than-life names so there's going to be a lot of eyes on whether or not the crew can pull it off.
Don Jon's Addiction
Joseph Gordon-Levitt seems to be an endless pit of talent, from his acting to his production company hitRECORD, and now he's going to show the world his writing and directing abilities too with
Don Jon's Addiction
. Jon Martello (Gordon-Levitt) goes through life in a sex-induced haze, splitting his time between watching pornography and objectifying everything and anyone he comes across. However, he ends up learning some pretty big life lessons from two very different women (played by Scarlett Johansson and Julianne Moore). While I doubt this film will reach the intensity of
Shame
(a film that perfected the story of sex addiction), I feel pretty confident that Gordon-Levitt will impress.
The Inevitable Defeat of Mister and Pete
After their mothers are taken away by the authorities, 14-year-old Mister and nine-year-old Pete are left on their own to take care of themselves in the Brooklyn projects, having to look for food and avoid child protective services and dangerous situations. A story of salvation and survival, early hype for this film is incredible, with many singing the praises of Skylan Brooks' standout performance as Mister. The film also stars Jeffrey Wright, Jordin Sparks, Adewale Akinnuoye-Agbaje, and Jennifer Hudson.
The Look of Love
Here's one that I'm thrilled for and it's not just because it stars Steve Coogan with a fantastic mustache…I promise. Directed by Michael Winterbottom (who worked with Coogan on his film
24 Hour Party People
back in 2002),
The Look of Love
tells the story of Paul Raymond (Coogan), porn king and real estate mogul, as he builds his empire of erotic clubs and magazines amidst a failing personal life. Written by Matt Greenhalgh (
Control
and
Nowhere Boy
), the film promises a unique structure that's filled with layers of black and white scenes that switch into color as time moves forward, the music and cinema style also changing. This film has been years in the making and I can't wait to see Coogan's performance, hoping that it launches him into the career recognition he deserves (if you don't know who he is, that's what I'm talking about). Plus, the movie also stars Stephen Fry, Anna Friel and Imogen Poots.
Stoker
When India's (Mia Wasikowska) dad dies in a car accident her Uncle Charlie (Matthew Goode) comes to stay with her and her emotionally abusive mom, Evelyn (Nicole Kidman). With a stellar cast, every single character seems to be a complete wreck, with hidden agendas and cruelty as the name of the game, and considering this is filmmaker Park Chan-Wook's (
Old Boy
and
Three…Extremes
) first English-speaking film you know it's going to be haunting. The Hitchcockian trailer shows a stunning Nicole Kidman and an incredibly intriguing plot line that I can't wait to unravel.
Stoker has already been given distribution with Fox Searchlight Pictures.
Other films in the Premieres section are:
Lovelace
, where Amanda Seyfried plays Linda Lovelace, the porn actress who shot to fame with 1972's
Deep Throat
, also starring Peter Sarsgaard and James Franco. In
The Necessary Death of Charlie Countryman
(directed by Fredrik Bond and written by Matt Drake) Shia LaBeouf's character travels to Eastern Europe under the suggestion of his deceased mom and meets Gabi (Evan Rachel Wood), a Romanian woman with a dark past. Paul Rudd and Emile Hirsch star as two guys who spend the summer painting traffic lines on a country highway in
Prince Avalanche
, overcoming their differences to form a strange and unlikely friendship.
A.C.O.D.
stars Adam Scott as Carter, a man who finds out his childhood therapist wrote a book about the "least-parented, least-nurtured generation" ever, using him as her main subject. Guy Pearce and Felicity Jones lead
Breathe In
, playing a music teacher and a young British exchange student who strike up a relationship after Pearce's family hosts her.
Another film with distribution from Fox Searchlight is
The East
, a story about a member of an intelligence firm who goes undercover within a group attacking CEOs, ultimately growing sympathetic with those behind it. It stars Ellen Page, Alexander Skarsg?rd, and Patricia Clarkson, and is directed by Zal Batmanglij (
Sound of My Voice
).
Also premiering:
Sweetwater
,
Top of the Lake
,
Two Mothers
,
Very Good Girls
, and
The Way, Way Back