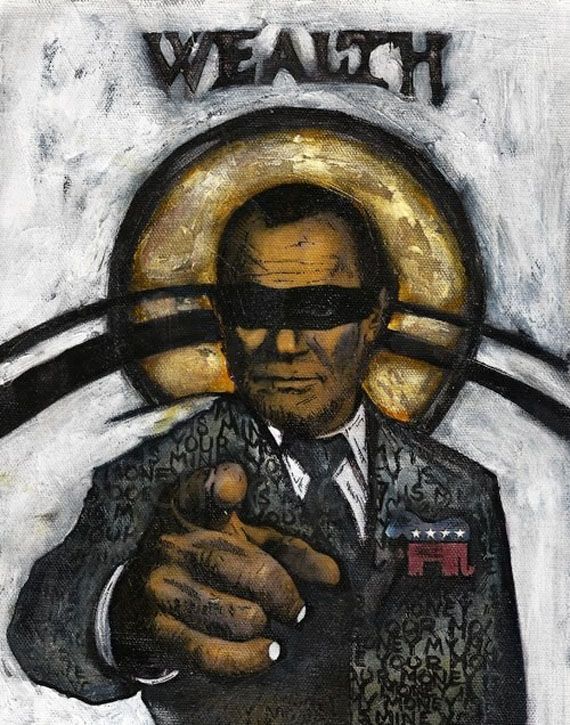 Photo Courtesy of Anthony Dortch
Artist Anthony Dortch began his career as a child playing with crayons, but his real artistic epiphany didn't come until high school. With "no fear of any media," Anthony is able to mix it up for his artistic endeavors, and his latest show,
The Privileged Series
, is no different.
The Privileged Series
shows the interaction of one group of people over another, whether defined by race, money or even location.
Each group is classified according to dress, with rich people visualized in yellow and gold and poor people in shades of gray and black. Drawing on the creativity of Anthony's friends, fashion designer Anthony Canney and hairstylist Tim Cabell, and pairing his visuals with the text of Jackson Lassiter,
The Privileged Series
is a collaboration that mingles various media into a combination of a gallery show and performance art that gets viewers talking.
The series continues to evolve from its inception, with video being added to the subject matters and various media, from paintings to costumed models. For the gallery show, Anthony includes photographs manipulated with painterly effects as well as walking models that enact characters from various social classes and walks of life. To help viewers understand the mixed media, Anthony has recently added video to the presentation so that people who don't make it to opening night can get a glimpse of the interaction between the dynamic performance artists and static paintings.
So far,
The Privileged Series
has appeared in Washington D.C., San Diego and Savannah and is heading to Brooklyn and the Adirondacks next year. Each performance and exhibit is slightly different, with the models and paintings being slightly modified to fit the space and reflects the growing process of the initial idea.