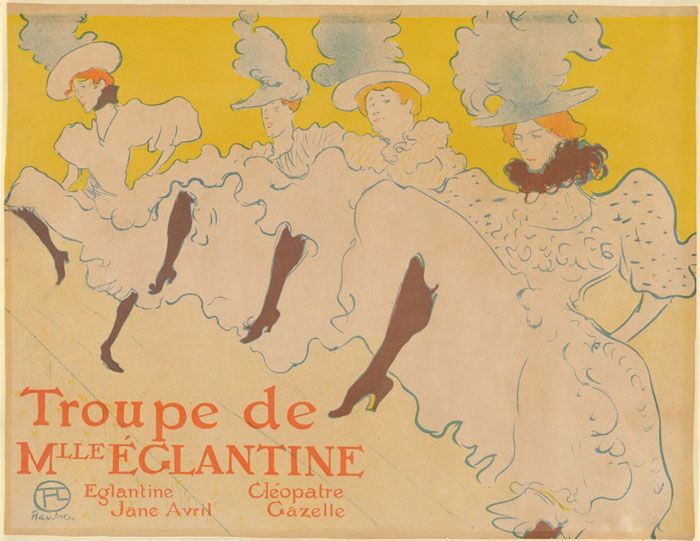 Photo Courtesy of National Gallery of Australia
Though the career of French painter Henri de Toulouse-Lautrec spanned less than 20 years (he died young at the age of 36) he will forever be remembered as one of the most provocative and influential artists of the Post-impressionist period.
Now, the National Gallery of Australia is presenting
Toulouse-Lautrec: Paris & the Moulin Rouge
as their summer blockbuster exhibition. As there is not one comprehensive collection of works by Toulouse-Lautrec, the National Gallery of Australia has secured loans from 30 international collections, such as the Toulouse-Lautrec museum, Albi, the Musée d'Orsay, Paris the Metropolitan Museum of Art, New York the Courtauld and the Tate, London and the Thyssen Bornemisza, Madrid.
With over 100 paintings, posters and drawings, this exhibition will run from December 14, 2012 to April 2, 2013 and will give the Australian public, as well as any lucky travelers, the opportunity to see an exhibition that is devoted to the art of this famous 19th century artist. Many of these pieces have never been exhibited publicly before, giving people an extraordinary opportunity to view some of these treasured and rare masterpieces.
"The National Gallery of Australia is excited to bring together Australia's first Toulouse-Lautrec retrospective exhibition, showing only in Canberra. Together with our own collection of works, the exhibition provides a comprehensive insight into the artistic life of Henri de Toulouse-Lautrec, through the late 19th century bohemian lifestyle of Paris," explained National Gallery of Australia Director, Ron Radford, AM.
Enthralled by the dance halls of Paris, Lautrec was one of the first to use posters as art. This talented artist was known for his acute ability to examine and depict Parisian life at the time, therefore, the exhibit will examine the artist's skill as well as his experimentation in composition and will showcase his involvement in Parisian culture.
The exhibition is believed to receive a significant amount of local and international visitation, particularly since this Toulouse-Lautrec exhibit will not travel to any other destinations.