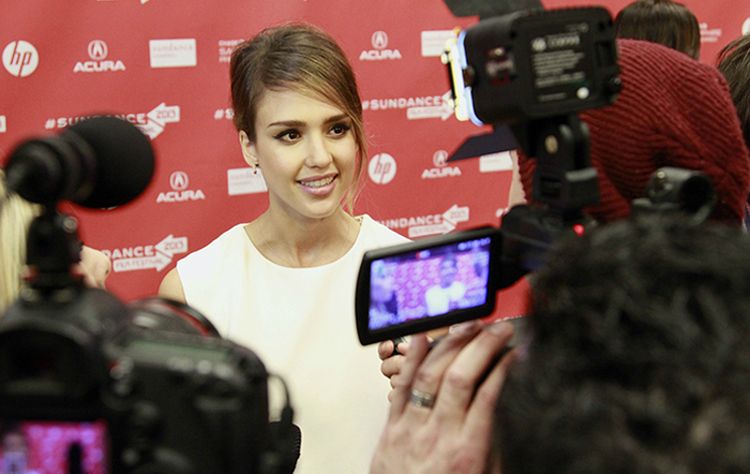 Sundance Film Festival
is underway and if you're not one of the lucky ones to be in attendance, the best you can hope for is some news of all the great films and celebrity attendees. With so many films getting some great early buzz and all the famous faces running around Park City, Utah, here's some of the news so far!
Joseph Gordon-Levitt Targets Romantic Clichés
ABC News Now
has been on the ground at Sundance with their
Popcorn With Peter Travers
, enabling the
Rolling Stone
film critic getting in some great face time with the stars of the screened flicks. One of the best quotes so far, in my opinion, has been star and director of
Don Jon's Addiction
, Joseph Gordon-Levitt, who has been facing critiques of his film about a porn addict as being immoral. He was quoted as saying, "If you want to talk about an immoral movie, those are the movies that are just blindly reinforcing these cliches of love at first sight, first kiss…get married and ride off together into the sunset. It's systematically ruining people's lives." Thanks Joe, I knew there was a reason why I have such unrealistic expectations when it comes to romance. (Photo Credit Brandon Joseph Baker | Sundance Institute)
Showcase on Gun Violence in Hollywood
Another hot issue so far - coming as no surprise - has been gun violence in Hollywood films, with a showcase at the festival discussing its influence on American crime. Many actors were on hand to give their opinion, like Guy Pearce, Kristen Bell, and Alexander Skarsgard. Pearce, who has appeared in a number of violent films, including
The Proposition
, said that Hollywood has a role but that there are plenty of factors to consider and be wary of before placing all the blame on movies. "There are films that use guns flippantly, then there are films that use guns in a way that would make you never want to look at a gun ever again - because of the effect that it's had on the people in the story at the time," Pearce says. (Photo Credit Brandon Joseph Baker | Sundance Institute)
Kristen Bell added to the discussion that while Hollywood certainly plays a role, the public needs to re-examine how they behave and take a measure of responsibility for their actions, noting that in her home country Canada, people can't just go out and "buy some crazy assault rifle that is made for the military to kill people." Bell's
The Lifeguard
co-star, Mamie Gummer, says that she's confused by on-screen violence, singling Quentin Tarantino out and saying, "I really hate Quentin Tarantino's movies generally, and I thought 'Django Unchained' especially was really tough to bear in light of everything. Just the deep romanticizing of it, the fetishizing of it is creepy to me. Or maybe it's lost on me. I don't enjoy it." (Photo Credit Calvin Knight | Sundance Institute)
Buzz-Worthy Films
Of the films getting acclaim are
Ain't Them Bodies Saints
,
Breathe In
(which had a line down the block of people waiting to catch the debut), and
Fruitvale
. Starring Guy Pearce and Felicity Jones,
Breathe In
is about a married teacher who becomes enamored with an exchange student. Director Drake Doremus says the reception was "exactly what you hope for. It was awesome."
Ain't Them Bodies Saints
, starring Ben Foster, Casey Affleck and Rooney Mara, is a modern-day western about an outlaw who has escaped from prison to track down his wife. Early buzz is applauding the director/writer David Lowery for avoiding genre clichés (car chases, shootouts, and jailbreaks) by crafting a story that evokes the pain of separation from the one you love and how it really feels to always be waiting. Many are comparing the film to Terrence Malick, but quickly assert that while emotive, Lowery succeeds in making it accessible and far more linear than Malick's projects. (Photo Credit Stephen Speckman | Sundance Institute)
Fruitvale
is about the unarmed 22-year-old Oscar Grant who was shot by a police officer in Oakland, CA on New Year's Day 2009. Opening with stark cell phone camera footage of the shooting, the film attempts to recreate that day, from the morning to the inevitable conclusion, drawing on powerful acting by actor Michael B. Jordan and Octavia Spencer. After getting rounds of applause at the press screening, distributers began fighting over who got the rights to the film, with Harvey Weinstein winning in the end for around $2.5 million. With wide release on the way, I predict this film will be popping up for next year's award mayhem. (Photo Courtesy of Sundance Institute)
What Steve Wozniak Thinks About jOBS
While the Steve Jobs biopic
jOBS
, starring Ashton Kutcher, premieres at Sundance tonight, the first clip from the film has already been released and Apple co-founder Steve Wozniak is pretty critical of the film's accuracy. Wozniak points to the plot points, character personalities and appearances, and dialogue as being fairly inaccurate. He told
Gizmodo
that he and Jobs never had the type of encounters shown in the clip and that the conversation about computers affecting society were more accurately had at the Homebrew Computer Club, without Jobs present. "Our relationship was so different than what was portrayed. I'm embarrassed but if the movie is fun and entertaining, all the better. Anyone who reads my book
iWoz
can get a clearer picture," Wozniak says. He was quick to add that he realizes his opinions are based on seeing one clip but assures that he sees the direction the film takes based on that one minute.
jOBS
definitely seems like it will be fairly inaccurate but we'll have to wait to see if as a whole, the film has the right meaning imbedded within. After all, this wouldn't be the first time Hollywood glorified a person to the point of inaccuracy and all that really matters is that we're entertained, right? (Photo Credit Calvin Knight | Sundance Institute)
Celebrities and Swag
While the flicks seem to be the main point of the festival, certain brands are getting some pretty good attention by dealing out swag to the famous attendees, many of whom are flaunting the perks via Twitter. Big names like Adrian Grenier, Mekih Phifer, Josh Hartnett, Alessandra Ambrosia, Naomi Watts, James Franco and Julie Delpy snatched up free trips, Samsung Galaxy's, iPad Mini's, and a wide range of luxury spirits. While some may think it's in bad taste for the famous to be flaunting their free goods, who wouldn't jump at the chance for free stuff? (Photo Courtesy of Samsung Galaxy)
(Photo Credit Calvin Knight | Sundance Institute)
(Photo Credit Stephen Speckman | Sundance Institute)
(Photo Credit Ashley Lindsay | Sundance Institute)
(Photo Credit Brandon Joseph Baker | Sundance Institute)
(Photo Credit Tiffany Roohani | Sundance Institute)
(Photo Courtesy of Samsung Galaxy)