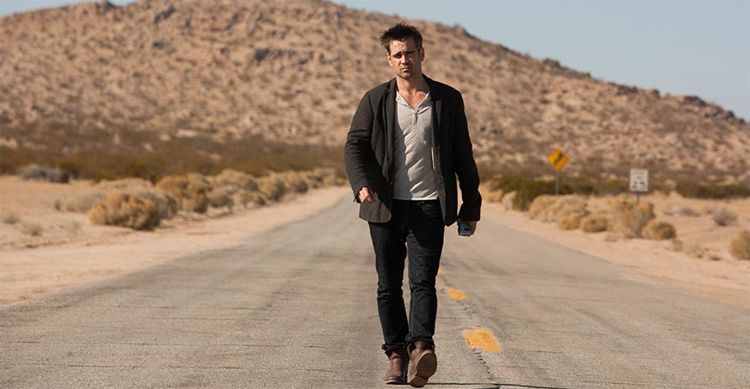 Photo Courtesy of CBS Films Inc.
Ireland is known for its rolling green hills, rambunctious pubs, and welcoming residents, but the area has also given the art world some pretty talented people. From poets and painters to actors and musicians, many greats have once called Ireland home. In honor of St. Patrick's Day, I decided to pick my favorite Irish imports, from the names nearly everyone knows of to those everyone
should
know of. You may not consider all of these names Irish but I have a pretty loose interpretation of what makes someone Irish; citizenship or family lineage is enough for me! Besides, I'm pretty sure Ireland has no problem with people like London-born Daniel Day-Lewis included. As with anything, you can't incorporate everyone you love so if you're upset to not find your favorites (
Peter O'Toole
or James Joyce perhaps), let us know.
Daniel Day-Lewis
After recently winning the Best Actor Academy Award for his performance as Abraham Lincoln in
Lincoln
, Daniel Day-Lewis became the first actor in Oscar history to win three Best Actor awards (he won for 1989's
My Left Foot
and 2007's
There Will Be Blood
). A method actor, he's known for disappearing into his roles and generally takes his time in choosing them. Since appearing in his first film as an uncredited child vandal in
Sunday Bloody Sunday
in 1971, Day-Lewis has only made twenty films, with as much as five years passing between projects. His father, poet Cecil Day-Lewis, was born in Ballintubbert, Stradbally, Queen's Couty (now called County Laois) and his mother, actress Jill Balcon, was from London, England. While he originally hailed from London as well, Day-Lewis holds both British and Irish citizenship, splitting his time between homes in New York City and Ireland.
Video Courtesy of Twentieth Century Fox
Glen Hansard
Born in Ballymun, Dublin, Glen Hansard's fame rose dramatically in 2007 when he and Markéta Irglová won an Oscar for Best Original Song for "Falling Slowly". The song appeared in the film
Once
, where he played a busker (drawing from his own experience as he quit school at thirteen to perform on the streets of Dublin) alongside Irglová. He was the first Irish-born artist to win an Oscar in that specific category. Hansard formed The Frames in 1990, quickly permeating themselves on the Irish music scene and despite all of Hansard's side projects (including forming the Swell Season duo with Irglová and releasing his own solo record
Rhythm and Repose
), the band remains together. Known for many things, including his battered Takamine NP15 acoustic guitar that he used to busk with (there's a hole worn into the face from strumming) and his penchant for Irish romanticism, Hansard is especially known for telling stories at concerts and having a close relationship with fans ? he's performed for fans waiting in line to get inside a venue and has gotten 21+ venues to open side doors for underage fans not allowed inside.
Video Courtesy of Glen Hansard Music
Abraham "Bram" Stoker
Everyone knows of
Dracula
, but not everyone knows that author Bram Stoker was born in Clontarf, Dublin ? not Transylvania. The infamous author wasn't very well-known in his lifetime and worked as actor Henry Irving's assistant, as well as being the business manager of the Lyceum Theater in London. In order to write
Dracula
, Stoker spent a lot of time researching vampire folklore and while much was written prior to his story, Stoker created the modern vampire and his Count Dracula is at the center of countless reimagining's and interpretations. Here's a little bit of Stoker trivia for you ? the author married Florence Balcombe in 1878, who had once dated Oscar Wilde (who appears later in this list), creating a temporary rift between the two writers.
Photo Courtesy of Wikimedia Commons
Brenda Fricker
Born in Dublin, Brenda Fricker may be best known for her performance in
My Left Foot
, where she became the first Irish actress to win the Oscar for Best Supporting Actress (alongside Daniel Day-Lewis who won Best Actor), but she's also recognized from
So I Married an Axe Murderer
and
Benny and Joon
. Fricker initially had dreams of becoming a reporter but fell into acting when she was nineteen and grabbed a role in 1964's
Of Human Bondage
. More recently she was seen in 2011's
Albert Nobbs
.
Photo Courtesy of Alan Light | Wikimedia Commons
Colin Farrell
Considered one of the sexiest actors alive, Dublin-born Colin Farrell has enjoyed a blend of commercial and critical successes. He became a household name after appearing in
Phone Booth
,
S.W.A.T.
and
The Recruit
, establishing himself as a partying womanizer in the media. After appearing in 2003's flop
Daredevil
, Farrell seemed to take a step back from box-office hits, instead choosing quieter films like
A Home at the End of the World
and
The New World
where he was able to showcase his talent in new ways. In 2009 he won a Best Actor Golden Globe for his performance in
In Bruges
(co-starring fellow Dublin-born actor
Brendan Gleeson
), putting him back on everyone's radar. His most recent movie is
Dead Man Down
and he will soon be seen in
At Swim-Two-Birds
, a film adaptation of Irish author Flann O'Brien's novel of the same name.
Video Courtesy of FilmDistrict Distribution, LLC
Saoirse Ronan
While she was born in New York, Saoirse (pronounced Seer-sha) Ronan's parents are both Irish, moving to County Carlow, Ireland when she was three. The actress grabbed everyone's attention when she played 13-year-old Briony Tallis in 2007's
Atonement
, an adaptation of Ian McEwan's novel by the same name. When Peter Jackson cast her as the lead in
Lovely Bones
(he apparently cast her without ever meeting her first, basing his decision on her mailed-in audition tape) he liked that she was pretty unknown, but that changed when she received nominations for a Golden Globe and an Oscar for Best Supporting Actress for her work in
Atonement
. She can next be seen in
The Host
, the newest adaptation from
Twilight
author Stephenie Meyer.
Video Courtesy of Open Road Films
Fionn Regan
Bray, Wicklow-born Fionn Regan may not be a name the masses are familiar with but that doesn't mean they shouldn't be. The folk musician first rose to fame in 2006 after releasing his debut album
The End of History
, and has since released three additional records. He's often referred to as the leader of the new "brit" folk movement, and is applauded for his poetic lyrics and experimentation with different sounds (his first album is stripped down, the second brought in electric numbers, the third has an orchestra, and the newest explores an Irish punk sound). He has many famous fans and as one of them, Welsh actor Rhys Ifans reportedly even has a tattoo of Regan's lyrics "Be good or be gone".
Video Courtesy of Universal Music
Oscar Wilde
Author and poet Oscar Wilde is one of the world's most revered playwrights and may be most known for his many epigrams (memorable statements), as pretty much everything he said and wrote can be quoted in multiple situations and time periods. Born in Dublin, Wilde was raised as an intellectual, having learned French and German at a young age, and studied a myriad of philosophies at university. With the help of his flamboyant personality, Wilde became incredibly popular after his move to London's social circles. His most popular works,
The Picture of Dorian Gray
and
The Importance of Being Earnest
, explore themes of decadence and betrayal, often critical of the very social group he was immersed in. His life ended tragically soon after he was charged with gross indecency with other men (yeah, that happened) and imprisoned for two years. After his release he fled to France and died there at age forty-six in 1900.
Photo Courtesy of Wikimedia Commons
Michael Fassbender
Born in Germany, Michael Fassbender is widely known as an Irish-German actor due to his mother, who is from Northern Ireland; his family also moved to Killarney when he was two. Though he appeared in a number of very good films, including 2008's
Hunger
directed by Steve McQueen and 2009's
Fish Tank
, it wasn't until
Quentin Tarantino's
Inglourious Basterds
that Fassbender gained mainstream popularity. Fassbender teamed up with McQueen a second time in 2011 for
Shame
and has recently finished their third collaboration
12 Years a Slave
, planned for a September 2013 release. Additionally, he has at least six projects being released this year, including
Prometheus 2
and an untitled Terrence Malick (
Tree of Life
and
The New World
) project that also stars
Ryan Gosling
, Christian Bale, and Natalie Portman.
Video Courtesy of Fox Searchlight
Shane MacGowan
Last, but certainly not least, is Shane MacGowan. Born on Christmas Day in Kent, England to Irish parents, MacGowan (who spent the first six years of his life in Tipperary, Ireland) is best known as the singer and songwriter for The Pogues. Drawing from his heritage and Irish nationalism, MacGowan changed the face of music with his poetic lyrics and outrageous personality (which includes his abuse of alcohol and drugs). Granted, he's the epitome of the self-destructive alcoholic ? fitting the Irish stereotype like a glove ? MacGowan is revered for his songwriting, penning some of most beautiful songs of love and war you'll ever hear. Take a listen to "A Pair of Brown Eyes" and try not to get caught up in a song about two men longing for "a pair of brown eyes that waited once." It takes immense talent to capture emotion as simply as he does and no matter how few teeth he has or how many times he falls while performing, MacGowan has the poetic soul most artists can only dream of having.
Video Courtesy of The Pogues Official