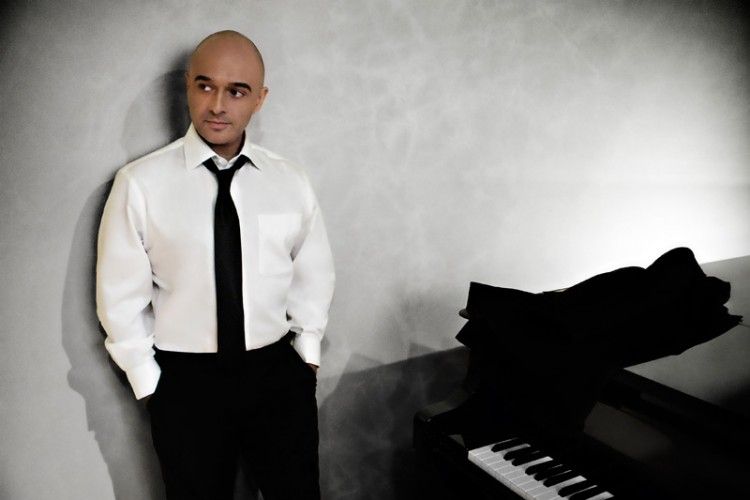 Photos Courtesy of Omar Music
Omar Akram
creates music influenced by his own personal background and life experiences — which is usually fairly common, except there is nothing common about Omar. Raised all over the world as the child of a United Nations diplomat and coming from a multicultural viewpoint, Omar is the first Afghan-American to win a Grammy (awarded for his fourth album, "Echoes of Love"). His music has been called, "a marriage of passion and grace, of adventure and relaxation, of beauty and raw earthiness," evoking hints of his personal past and looking forward to his future.
Omar Akram kind enough to take the time to answer some questions.
Carly Zinderman: When and why did you first become interested in music?
Omar Akram:
I was a hyper child so my parents would play music to calm me down. At the age of six my parents bought me a piano and got me a piano teacher. That's how it all started.
CZ: Is your family musical?
OA:
My family is not musical, but there was always music in the house. My parents love listening to music.
CZ: Which famous musicians do you admire? Why?
OA:
I admire many musicians and composers, some are classical, like Mozart and Bach, and [some are] contemporary ones like Elton John, The Beatles, Garth Brooks and Michael Jackson. They all got to the top of their genre by working extremely hard.
CZ: Which famous musicians have you learned from?
OA:
I've learned from different famous musicians, things like hard work pays off, and never stop learning your craft.
CZ: Where do you find inspiration?
OA:
Inspiration can come from anywhere. Sometimes it comes from places I've traveled to, from a smile I get from my 10-month-old daughter, a romantic evening with my wife, or a dream.
CZ: What are some of your best musical memories?
OA:
When I was 13 [years] old my family lived in Cuba. My father was the ambassador from Afghanistan to Cuba. I got to meet great Cuban Jazz musicians and got to play with them.
CZ: What is like to be considered a cultural ambassador?
OA:
It is an honor to be recognized as a cultural ambassador.
CZ: What was it like to win a Grammy?
OA:
It's really hard to put it in words. Winning the Grammy was one of the highlights of my life and being the first Afghan-American to win is truly remarkable.
CZ: How did you become a resident artist at the House of Blues?
OA:
HOB asked me to perform a show last August, I was a bit surprised since it's mostly a Rock and Roll venue.  We had a great turn out and after doing a couple of more sold out shows, they asked me to become a resident artist.
CZ: Do you have any upcoming albums or tours?
OA:
I am in the studio working on new tracks for a "Best Of" album. This album will have five tracks from my previous albums and six new tracks. I am hoping for an August release date.
CZ: Is there anything else you have in the works that you would like to share?
OA:
I am working on [doing] more performances in the States and abroad, and I am also hoping to get into composing film music.