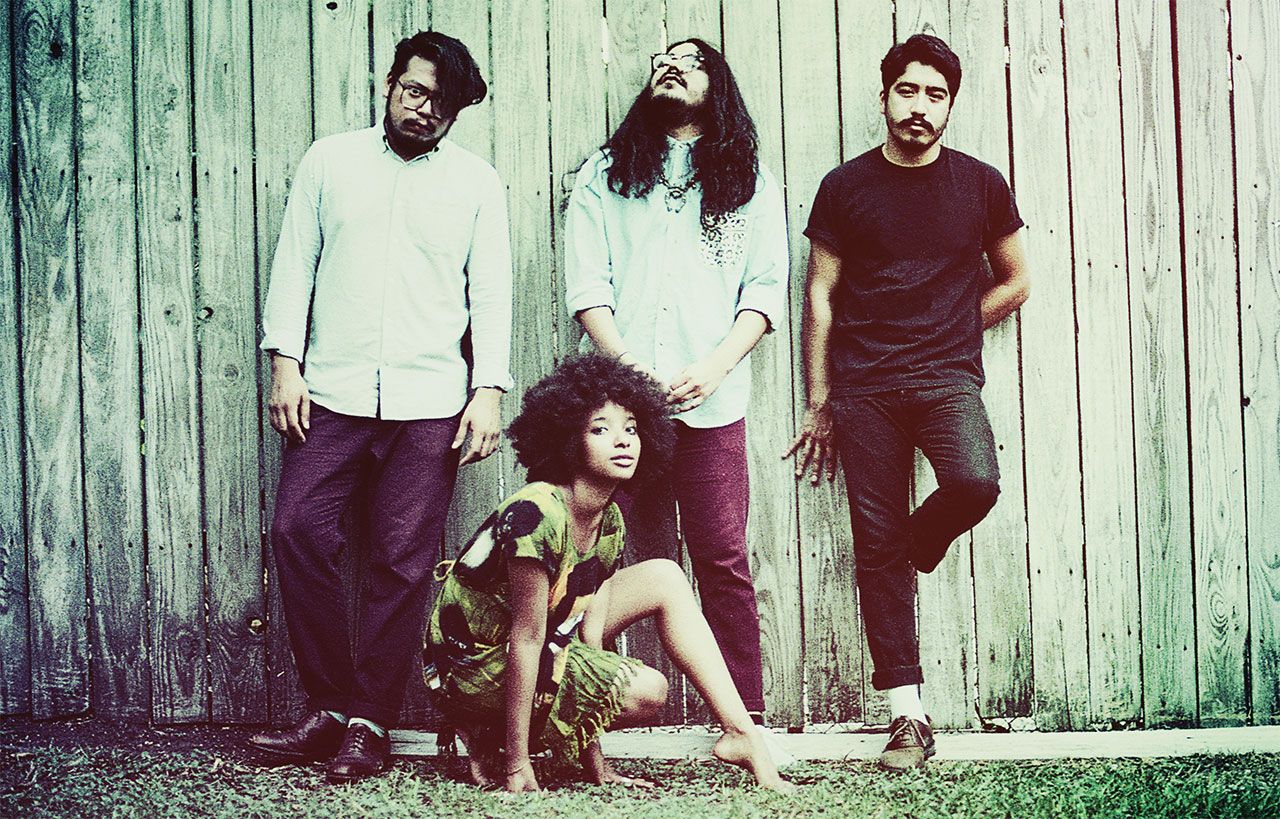 Photo Credit: Julie Worsham
Houston-based indie rock band The Tontons had already been on the road for two months straight by the time we got to them behind Soda Bar in San Diego. With their road-weary tour van stuffed full of blankets and pillows beside us in the alley as a reminder of their exhaustion, they took some time to chat about their unique sound, the pressure and perks of self-releasing, and what life is like on the road.
The group, which has been together for seven years now, is comprised of singer Asli Omar, bassist Tom Nguyen, and brothers Adam Martinez (guitarist), and Justin Martinez (drummer). Though they've gotten plenty of attention in their home state—including many awards and nominations from Houston Press—they've been seeing a lot more buzz thanks to their second full-length studio album, Make Out King and Other Stories of Love.
Photo Courtesy of The Tontons
With a soulful sound that's super high-energy and seems to borrow from a wide range of musical influences, the band has fun summing up their style in strange ways. "Somebody said surf-Motown the other day, and I thought that was pretty accurate," Asli says. "I think we used food to describe it last time," adds Tom with a laugh. "It's a raw meat…undercooked meat."
Before Make Out King and Other Stories of Love was released it had been around five years since their first EP, meaning that the band toured for around a year and a half off of the same material. Since they self-release their own material, The Tontons didn't have a record company breathing down their necks for new music, allowing them to take their time and do things their own way. However, with such a long stretch of time between records, they definitely felt some pressure to get Make Out King and Other Stories of Love recorded.
Photo Courtesy of The Tontons
"It was kind of one of those things where it was like in order for us to book the next tour, we kind of needed something to tour on," says Asli. "I definitely think if there hadn't been any time crunch, we probably wouldn't have recorded it in the way that we did, which was just really intense. It was like…recording bootcamp basically. And it would have been nice [maybe if it had been like a] recording hotel or recording spa; it wasn't that luxurious [laughs]."
Though they don't typically write new material while on the road because they just don't have the time, the newest record was written about the experiences they had while on tour. "…We rushed into the studio and kind of vetted out a bunch of ideas and…also there's a lot of television involved. Got a little inspiration from The X-Files and The Wonder Years," Tom deadpans before Asli quickly asserts that no, The X-Files was not an inspiration.
Photo Courtesy of The Tontons
With so much time spent touring the country in their van blasting tunes that range from Paul McCartney to Slipknot, we were pretty curious about what life on the road actually feels like. With exhaustion sagging their shoulders, the answer was clear before they even articulated a response. "We've actually had this conversation where you get done with tour and there's no pressure to think about the tour, you remember all the crazy stuff that happens—cause something crazy happens almost every time. But when you're in it, it's like tunnel vision..." explains Asli. "From where we're standing right now, everything just seems crazy, It's like your whole life is like waking up in a different city, driving to a different city, playing in a different city, going to sleep at the hotel, waking up in a different city…on repeat."
After their show tomorrow night at The Ballroom at Warehouse Live in Houston, they'll be able relax for a couple weeks before heading to AfroPunk Fest in Brooklyn (which runs August 23-24). With some free time on its way, Asli has hopes that they'll be able to start writing their next album, though they have no idea yet what it will be about.
Photo Credit: Rob Loud Photos
Though tired and weary, the group was open and friendly during the course of our chat, joking about everything from Adam's "Tinderellas" waiting to be swooped up for a date to the time Asli met St. Vincent while the guys were too nervous to approach ("I did it! Champion!" exclaims Asli). They may have been exhausted at the time of the interview, but the band promised several times that they would be much more energetic on stage and they certainly didn't disappoint. They somehow rallied up some crazy on-stage energy, transforming from a group of four goofy (albeit sleepy) friends to a fantastic rock band that was born to perform.
Do yourself a favor and check out The Tontons on their various platforms, including "Instagrizzle."
Photo Courtesy of The Tontons
Photo Courtesy of The Tontons
Photo Credit: Tim Griffin
Photo Courtesy of The Tontons
Photo Credit: Julie Worsham
Photo Courtesy of The Tontons