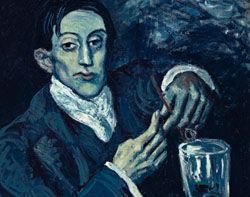 Arts & Cultures
On behalf of the philanthropic Andrew Lloyd Webber Foundation, Christie's is going to auction a Pablo Picasso, the portrait of Angel Fernandez de Soto, with the hopes of raising more than $60 million for charity. The portrait, also known as The Absinthe Drinker, is from Picasso's Blue Period. The estimated value is $60.9 million.
This is the second time that Webber's foundation has attempted to sell the portrait. The first attempt occured in 2006 was derailed when a legal battle regarding ownership of the painting surfaced. The lawsuit was settled in December 2009, according to Christie's.
The Blue Period defines the works produced by Picasso between 1901 and 1904, when he painted predominantly in shades of blue and blue-green. While the pieces are viewed now as some of his most popular paintings, the works did not sell well at the time.
The auction of the Portrait of Angel Fernandez de Soto will take place in London on June 23.
www.christies.com