Culinary News, Features & Events
Home
LuxeEpicure
LUXURY CALENDAR


LuxeEpicure Events
August Events

An Evening on the Beach


Aug. 7, 2014 | Santa Monica, CA

The summer's most anticipated culinary event returns to Santa Monica. Featuring some of LA's hottest chefs, relax with tempting morsels off the...
Chocolate Winterfest


Aug. 10, 2014 | Latrobe, Tasmania

Chocoholics everywhere unite for this wickedly delicious event! The Chocolate Winterfest is devoted to all things chocolate, and the quirky festival...
September Events

There are currently no events sheduled for month.
October Events

Epicure.sb: A Month To Savor Santa Barbara


Oct. 1 - 31, 2014 | Santa Barbara, CA

During epicure.sb, delight in special events and epicurean exploration that fulfill one of three categories: crave, toast, and explore. Of course,...
WP24 by Wolfgang Puck
Los Angeles, CA | Chinese
Esquire Magazine - One of the Best New Restaurants of 2010! Food & Wine Magazine - One of the Best New Restaurants in America! Los Angeles Times - Three Stars!
Craft Los Angeles
Los Angeles, CA | Contemporary American
Tom Colicchio's Craft in New York City received the James Beard Award for Best New Restaurant nationwide in 2002, and five years later brought Craft across the country to join the other "top chefs" in Los Angeles. His new American dishes marry the finest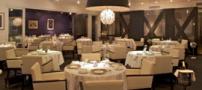 Melisse
Los Angeles, CA | French, American
Melisse is both a two Michelin Star Award winning restaurant and the recipient of Zagats highly coveted number one rated restaurant in Los Angeles since 2003. Situated in Santa Monica, Melisse inspires all of the senses with its chic ambiance, superb,