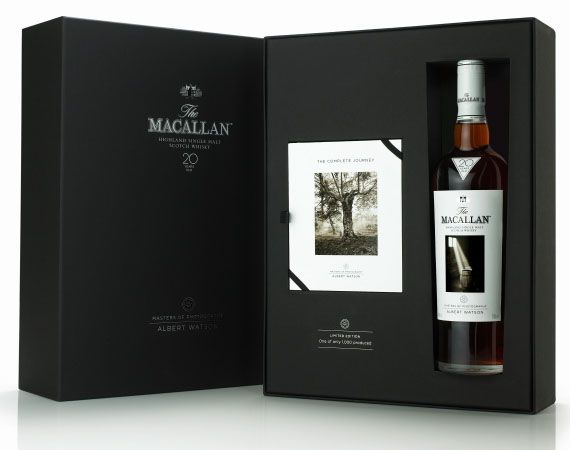 Fine Spirits:
Famed Speyside distillery The Macallan will produce an ultra-exclusive limited edition bottling of precious
whisky
distilled in 1946 as part of its upcoming Albert Watson collaboration, priced at $16,000 apiece. The offering stems from the Macallan's Masters of Photography series, which the Scottish-born Watson, recent winner of the The Royal Photographic Society Centenary Medal for his iconic celebrity and fashion-based work, is helming in its second iteration. Only 36 bottles of the rare 64-year-old
single malt Scotch
will be available early next year along with a one-of-a-kind platinum print from Watson's project for the distillery.
The
64-year-old Macallan
's value was cemented by the recent sale of the one-of-akind Lalique Cire Perdue decanter, which was auctioned off at Sotheby's for a record breaking $460,000. If the 1946 is out of your reach, you might still be able to lay claim to the regular but also quite special Albert Watson Masters of Photography bottling – a new, limited-edition 20 year old single malt priced at $1,000 apiece, of which only 1,000 bottles are being produced. Watson's images depict a young couple as they travel the path the wood used in the distillery's whisky casks takes as it moves from the Spanish forest to its spiritual home on Speyside.
See our picks for the
Best Fine Spirits