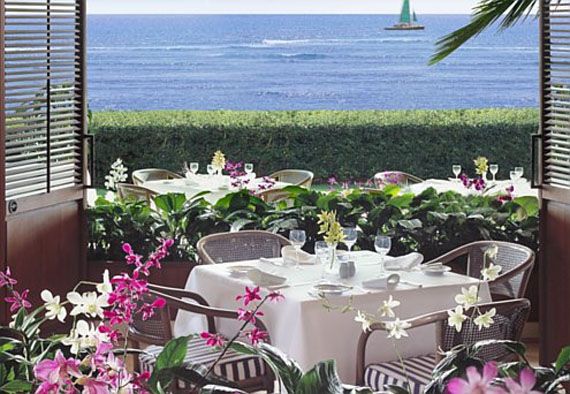 Photo Courtesy of Halekulani Hotel & Diane Ako
My favorite table in the metropolis of Honolulu has always been by the sea. Under a canopy of palm trees at Orchids,
Halekulani
's acclaimed ocean-side open-air restaurant. I like to lunch with Diamond Head to my left and the Waianae Mountains seated far to my right.
Waikiki's soft waves break just steps away as I sip my iced tea and feast on succulent steamed Mo'i fish dreaming of the soft, creamy coconut cake to come. Halekulani suites and its celebrated dining spaces have hosted kings and queens, and the well-heeled commoner alike for generations.


Frequently lauded for its personalized service, masterful cuisine and innovation, Halekulani now pioneers the offering of menu items free of genetically modified organisms (GMO). As of March 2011, Halekulani is the first luxury hotel in the United States to offer guests this pedigree in organic gourmet cuisine.

Chief Operating Officer Peter Shaindlin says, "Halekulani is introducing its new "GMO-Free Cuisine" in response to its clientele's growing desire to be provided this option in an era of increasing focus and awareness on product choices and wellness."

Halekulani's "GMO-Free Cuisine" available at Orchids and via in-room dining features menu items conceptualized by Executive Chef Vikram Garg to include Ahi Crudo and Daikon, Sumida Farm Watercress and Hearts of Palm Salad, and Lentil and Rice Risotto with Turmeric and Asafoetida. The menu can be paired with offerings of organic wines and USDA-organic juices.


Chef Garg says, "I have been a long- time proponent of health conscious cuisine and honest foods. Foods that are locally sourced, simple, pure and unprocessed speak to the way so many of our discriminating guests live and eat. That's what we want to offer through our expanded menu items." He continues, "Halekulani produce is from local organic farms, all dairy, fish, meat, fruits and vegetables are free of chemicals, preservatives, hormones, food additives, enzyme flavorings and processing agents, including rennet used to make hard cheeses, meat, eggs, and dairy products from GMO-fed animals. In addition, fish are wild-caught and contain less mercury and pollutants which are commonly known to have harmful effects on health."

Knowing that the "GMO-Free Cuisine" initiative is part of Halekulani's continuing focus on offering a sophisticated world of choices, I continue to languish here on the Orchids lanai savoring the crunch of my watercress salad, grown only a few miles away in Pearl City and most likely picked that morning.

Providing choices and gracious service to their guests is what Halekulani has always been about. Catering to healthy lifestyle choices is simply another example of renowned Halekulani Hawaiian hospitality.

Halekulani
2199 Kalia Road
Honolulu, HI 96815
808.923.2311
www.halekulani.com