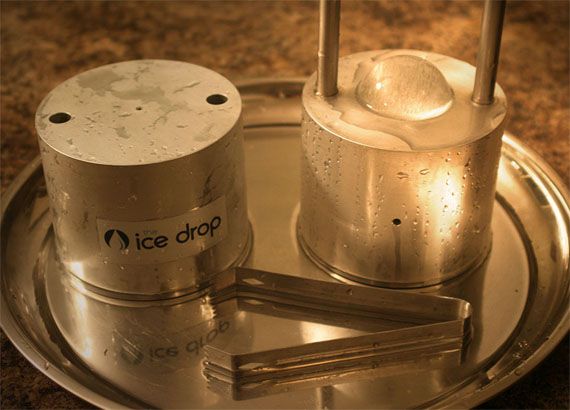 Photo Courtesy of Ice Drop Maker
If your favorite
fine spirits
have become bored with just plain old "rocks," then the Ice Drop can help step it up a bit. The ingeniously shaped Ice Drop is as fun to use as it is to enjoy. A great conversation piece for your next libation-filled gathering, the Ice Drop maker is an elegant and simple ice press designed to take large blocks of ice and melt and shape them into perfect ice spheres, or "ice drops."
The "Ice Drop Experience" is all about making the perfect icy sphere. You and your guests can watch in awe as a square block of ice melts into a perfectly smooth ball right before your very eyes (in anywhere from 40 seconds to a minute - perfection takes time).
Ice drops are perfect for adding a little flair to high-end scotch or whisky, as the ice spheres do not melt as quickly as conventional ice cubes. Our resident whisky expert
Ray Pearson
divulges: "It's a fact that the more surface area of the ice in a drink, the faster it will melt and dilute the drink. So, with ice cubes, bigger is better because there is less surface area on one large cube than on a few smaller ones. And, there is even less surface area if the shape is a sphere!"
The Ice Drop Maker weighs in at around 15 pounds (of solid aluminum) and is comprised of two halves: the top and the bottom, with each half of the mold used to form the spherical solids. Perfect as they are, they can be further fancied up by making blue, red and green spheres that can be used in mixed drinks like gin and tonics or bellinies. Or with one extra step, try freezing fruit into the center of the ice drop for an extra hit of fun and flavor.
Pretty much wherever your imagination wanders, there is an ice drop to be created there. The Ice Drop maker starts at $985. Visit
IceDropMaker.com
to learn more.