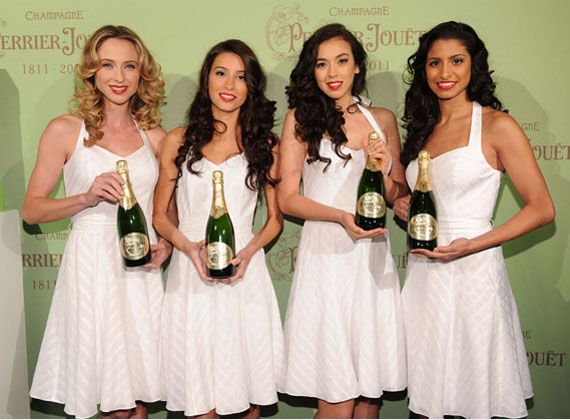 Photo Courtesy of Wire Image
A stylish crowd gathered at the Mondrian Soho last night to celebrate the 200th anniversary of legendary
Champagne
house Perrier-Jouet. Susan Sarandon and daughter Eva Amurri, the guests of honor, were in attendance throughout most of the party. They mingled with friends like designer Chris Benz (who designed Eva's frock for the evening) and other guests.
Champagne flutes were etched with Perrier-Jouet's classic floral motif, while artfully designed flower arrangements on the front terrace played off the iconic design. DJ Michelle Pesce spun an upbeat European-influenced mix. Later in the evening, Eva and her bridesmaids were the focus of attention, with much of the party chat centering around her upcoming fall wedding.
Perrier-Jouet
Grand Brut flowed abundantly, and during the last half-hour — much to all the ladies' delight — the statuesque white-clad pourers brought out a rose too. Paired with delicious dark chocolate mini-tortes, it was the perfect finale to a beautiful evening. We hope the rest of summer will be equally bubbly, beautiful, rich and sweet.