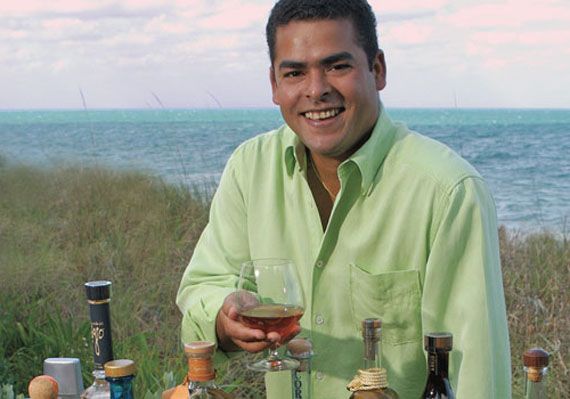 Photo Courtesy of Ritz-Carlton
Of course I've heard of a sommelier, but a tequilier - that's a new one on me. It's absolutely real though, I promise. It's someone who is an expert on tequila and can select different types to complement a meal - and I've met one.
At first I must confess I wasn't entirely convinced. My experience with tequila is like many others I suspect. A lick of salt, a shot downed in one gulp and then a suck on a slice of lime - not very pleasant. According to Heriberto Oviedo, tequilier at the Cantina Beach restaurant, Miami's only Mexican-inspired coastal restaurant, at the
Ritz-Carlton Key Biscayne
, taking tequila in that way is a Mexican cure for a cold (which might explain why it's so unpleasant); and that the correct way to drink tequila is to sip rather than shoot.
There's not much that Heriberto doesn't know about tequila - he really is the authoritative voice on the 85-plus
premium agave tequilas
offered at the restaurant, from white to golden and everything in between. Heriberto trained in the Tequila region of Mexico and he is so passionate about the spirit that he has even been there to see exactly how it is made, tracing the process right from the cutting of the agave plant all the way through to the bottle.
And he loves sharing his knowledge. He told me how tequila can be aged in barrels that had originally been used for drinks such as bourbon or cognac to give it different flavor notes. However, once a barrel has been used for tequila it cannot be used again.
Each day at the hotel he hosts daily tastings and sit downs to educate guests about the spirit, show them how to taste it properly, dispel myths, share the rich history of tequila making, offer suggestions on how to make the perfect margarita and even recommends varieties to pair with dishes from the restaurant's menu.
"Our goal is to make our guests comfortable with something they've never tried before, while also providing them with a memorable experience," said Heriberto. "Tequila is actually a very sophisticated spirit and I enjoy educating them about its finer qualities and providing recommendations on how to best enjoy it."
Situated under a thatched-roof palapa built by the Miccosukee Tribe of Indians with plush lounge chairs, a fire pit, tiki torches and bar overlooking the ocean La Cantina has a relaxed atmosphere by day, transforming into a romantic retreat as the sun goes down. The elaborate bar, behind which sits the rows of tequila, was made in Mexico and shipped across and the chef is also Mexican.
The menu includes dishes which make the most of the beach front location. Highlights include tacos al pastor, shrimp quesadillas, fresh ceviches and tableside guacamole. And if Heriberto hasn't convinced you about the merits of straight tequila, try a flight of margaritas which come in flavors such as jalapeno, strawberry, mango and even a margarita with a grand marnier float to accompany your meal.