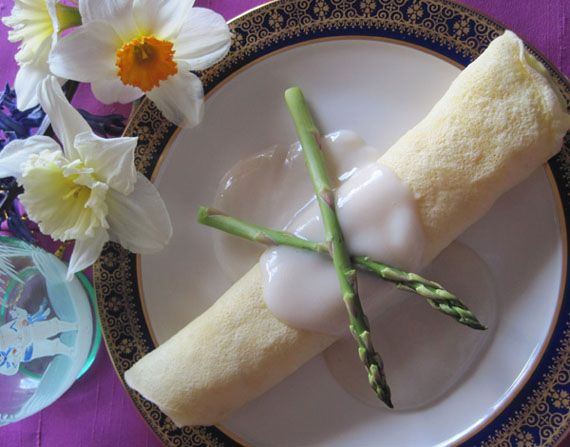 Photo Credit: Kurt Winner
A multitude of incredible
local wines
, cold-water lobster, and fresh produce from nearby Annapolis Valley farms in Nova Scotia grace the table at Blomidon's each night. This dish was designed by Chef Sean to honor his mom, Donna...he hopes that you will make it for your mom.
"Growing up at the Amherst Shore Country Inn, my mother taught me the value of growing gardens full of fresh ingredients and using these in all her recipes. Mom still keeps a beautiful garden at the Blomidon Inn, which provides our kitchen with many of our vegetables and herbs – including fresh asparagus!" – Chef Sean Laceby
Asparagus Mushroom Crepes
(Serves 2)
2 large crepes (you can purchase pre-made)
2 tbsp butter
1/4 cup diced onion
1 1/2 cups sliced mushrooms
1/4 cup dry white wine
6 large pieces asparagus, chop bottoms and save tips
1/2 cup whipping cream
2 tsp fresh thyme
1 grilled chicken breast, chopped salt and pepper to taste
Melt butter in heavy based sauté pan. Sautee onion, then mushrooms until they are lightly browned and most moisture has been removed. Add white wine, then asparagus, cream, thyme. Reduce by half and add cooked chicken. Season with salt and pepper.
Pour 1/3 mixture into 1 crepe. Fold edges of crepe towards center. Repeat with next crepe. Pour remaining filling over the top of both crepes and garnish with asparagus tips.
This post originally appeared at
CityRoom.com
.