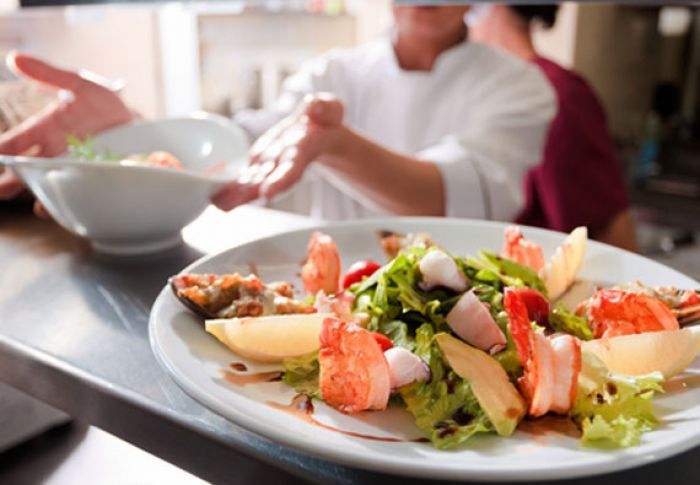 If wine pairing is about harmony (balance) or contrast (opposite), cooking is harmony
and
contrast. Everybody knows about the four basic flavors: sour, bitter, sweet and salty. You can also add spicy and others.
Alain Ducasse
, a famous French chef, always says: "Create a dish with no more than two or three flavors."
Let´s take an example: fish, lime and asparagus. Fish matches very well with a butter lime sauce, served with asparagus (bitter). A good chef would not mix too many flavors - "Too much flavor kills the flavor." Why add spices, ginger or herbs, if you do not feel it in mouth? Palate development is such a long training process. We usually say in France: to become a wine expert you need 15 years of professional daily tastings. This is also true for a chef as well, meaning visits with local producers and markets, tasting everything while cooking (even raw products), and remembering.
Question: A good chef, when creating a dish, is in his "own world." Do you believe the customer understands the meaning of the dish? Do you think the chef should present the plate and explain it?
Food Trends
Eat local "From the Farm to the Plate"
Eating Organic
Light Fare
Less salt while cooking. Rock salt is more and more popular, and it is amazing with dark chocolate!
Food and Design. More creativity in presentations. Very strong influence in Canada and Denmark (Noma, Denmark, has been named this year the Best Restaurant of the World)
A spicy touch on each plate, like ginger, wasabi or Tabasco (even with desserts!)
Ethnic cuisine gets bigger and bigger
Finger food and half portions allow the customers to taste more and pay less
Slow Cooking
Gastro Pub's
The Chef's Table
This post originally appeared at
CityRoom.com
.