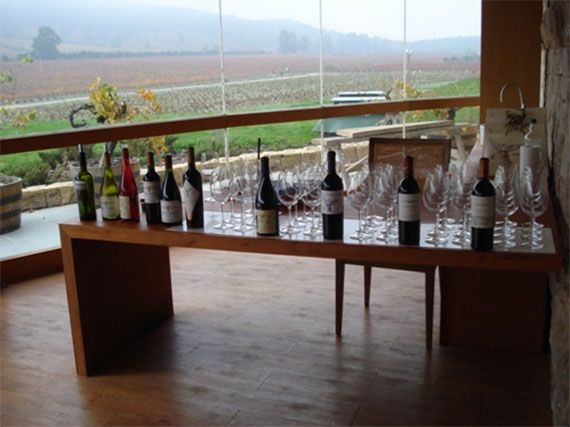 The wine-tasting lineup at Montes
Chile boasts a wine industry that dates back to the 1550s when Spaniards first planted grapes there. The country contains 14 major wine regions that produce and export varietals we all know such as Chardonnay and Cabernet Sauvignon, as well as more unique grapes like Carmenere. Some in the wine world even argue that Chile's phylloxera-free vines (a boon thanks to the country's geographic isolation) are some of the world's purest expressions of these varietals.
Though you might find some of these wines in your corner bottle shop, a trip south of the equator is the best way to get a real sense of the Chilean wine scene, and taste some phenomenal bottles you won't find anywhere else.
This doesn't have to be month-long arduous odyssey, though. Thanks to more frequent flights on LAN, and an ever-expanding tourism infrastructure, taking a trip down to Chile is easier and faster than ever, and here's what you can do (and taste!) in a week.
Prime Your Palate Mid-Air
You don't have to wait to get to Chile before the wine-tasting can begin, though. Instead, as you fly on LAN's Business Premier service (daily flights from Los Angeles via Lima), you can sample sips specially selected by LAN's Master Sommelier (and the only MS in South America), Héctor Vergara.
On our flight down there, we started with the citrusy Vi?a Casablanca 2010 Nimbus Sauvignon Blanc from Chile's Casablanca Valley, then tried both the cherry-licious Vi?a Garcés Silva 2008 Amayna Pinot Noir from the Leyda Valley in Chile, and the biodynamic Vi?a Emiliana 2008 Coyam red blend (including Syrah and Carmenere) with its deep dark fruit notes and hints of coffee and chocolate.
After a nap (hey, it was bit of wine!) on the overnight Lima-Santiago leg of the flight, we arrived in Chile at dawn for our first full day.
Santiago
Many of Chile's largest wine regions are within just two hours of Santiago, so those on a tight schedule can rush directly out to the vineyards. We had a bit more time on our hands, so we spent a day and night in Santiago adjusting to the time, and exploring Chile's capital.
Our home base for the first night was the W Santiago, whose soaring glass tower punctuates the skyline of the city's tiny Las Condes neighborhood, and contains ultra-chic rooms, a Whiskey Blue nightclub, a rooftop pool with panoramic views of the metropolis and the nearby Andes foothills, a swank lobby lounge that's great for meeting friends for a cappuccino or a drink, and several upscale restaurants. Down on the ground floor, you'll also find Héctor Vergara's own wine shop, El Mundo Del Vino, which carries an encyclopedic collection of South American vintages, as well as great wines from around the world.

We didn't browse too long, however, because we were off for a lavish seafood lunch at the famous Don Augusto in Santiago's old Mercado Central, where we tried specialties like razor clams with parmesan sauce.
Sufficiently sated, we could then wander the historical core of the city near the Plaza de Armas, with its cathedral and museums, the imposing La Moneda mint where you'll find the seat of the government, and the leafy Cerro Santa Lucia park.
Hasta Colchagua!
The Colchagua Valley, just about two hours south of Santiago, is Chile's most famous wine region, and where you'll find some of its best known wineries. It's actually the southern end of the larger Rapel Valley, and thanks to its temperate climate, the wines it's known for are juicy, vibrant reds. You'll find a lot of Cabernet Sauvignon here, as well as a growing volume of Syrah, and what has become Chile's national grape, Carmenere, valued for its rounded mouthfeel and bright red fruit notes.
Spend your first couple of nights getting to know one of the biggest names on the Chilean wine, Casa Silva, which has been producing wine for well over 100 years, and is to this day still a family business. The winery is located in the heart of the Colchagua Valley near the village of San Fernando, and though you'll find sprawling vineyards on the estate here, the winery also produces wines from vineyards all over Chile, and a tasting session here will give you great benchmarks for the country's various terroirs.
In particular, we'd suggest tasting Casa Silva Cool Coast Sauvignon Blanc for an example of Chile's coastal-climate wines, the flagship Carmenere Reserva, as well as the Cabernet Sauvignon Reserva to get an idea of what sets Chilean Cabernets apart from those from elsewhere, plus a few of the winery's more specialty wines like the Quinta Generación red blend mixed from old and new vine plantations, and the coveted Bordeaux-like Casa Silva Altura Carmenere-Cabernet-Petit Verdot blend.
Spend the next day enjoying the vineyards and winery of another big name, MontGras, just a few minutes' drive away, where you can blend your own wine from Cabernet Sauvignon, Merlot and Carmenere, bottle it, and take it home as a keepsake; or if you're in the mood for some hard work and are there at the right time of year (around March-May), you might even be able to help out with the grape harvest. Tastings here include a run-through of their Reserva line, though be sure to try some of their organic Soleus label if it's available. Visitors can also enjoy a gourmet lunch in the restaurant on the property, with courses paired to appropriate wines, such as roasted lamb chops with broad bean puree and mint paired to the MontGras Quatro 2009 Bordeaux-style red blend as well as a taste of the winery's Antu Ninquén (like the vineyard) 2009 Syrah.
Down to Santa Cruz
Now it's time to head even farther into the Colchagua Valley towards the town of Santa Cruz.
While in this part of Colchagua, spend a few nights at an exclusive Relais & Chateaux inn on the grounds of the famous Casa Lapostolle winery. Its Lapostolle Residence is located near the winery's state-of-the-art showcase winemaking facility (its shape reminds us of a beautiful bird's nest nestled in the hills) where they produce their high-end Clos Apalta and Borobo labels.
Take a tour of the winery, and enjoy tastings of various productions like the single varietal Cuvée Alexandre Carmenere, Syrah and Cabernet Sauvignon, as well as the Borobo blend of Carmenere, Pinot Noir, Syrah, Petit Verdot and Merlot—an assemblage formulated by famed wine expert Michel Rolland to represent the storied French wine regions of Bordeaux, the Rhone and Burgundy (hence the name).
Guests can also partake in activities like hiking, biking or horseback riding around the property's 1,600 scenic acres, visiting the nearby town of Santa Cruz, having spa services in their rooms, or taking tours to neighboring illustrious wineries such as…
Montes, which is one of most recognized premium wineries in all of Chile. The winery is actually an interesting feature in and of itself since it was designed according to the principles of feng shui with specially placed running water features, a certain geographic orientation, and most interestingly, a semi-circular barrel room where Gregorian chants are played to the maturing wines around the clock in order to promote a more harmonious natural resonance.
Among the cult wines you can try here are Montes' first, flagship wine, the Montes Alpha Cabernet Sauvignon, as well as the range of "iconic" wines including the Montes Alpha M Left Bank Bordeaux-style red blend, the 100% Syrah Folly, and the memorable Purple Angel Carmenere-based wine that aims to be a full expression of Chilean Carmenere, with both supple tannins, dark fruits and just a hint of black pepper and green herbs.
A Regreso
After all those tastings and tours, you'll be a veritable Chilean wine expert...well, at least, an expert on the Colchagua Valley. There are still plenty of other regions to explore like the recently declared Cachapoal Valley

and its award-winning Carmeneres, the sprawling Maule Valley with its diverse wines, and the up-and-coming Leyda Valley where spectacular cool-climate wines are coming into their own.
If that's a not high note to end a trip, we don't know what is. Don't worry, though, you can get one last taste of Chile's wines in the LAN Mistral VIP Salon in the Santiago Airport's international terminal.
For more information on Chile's wines and wine tourism, both in the Colchagua Valley and the country's other appellations, visit Wines of Chile.