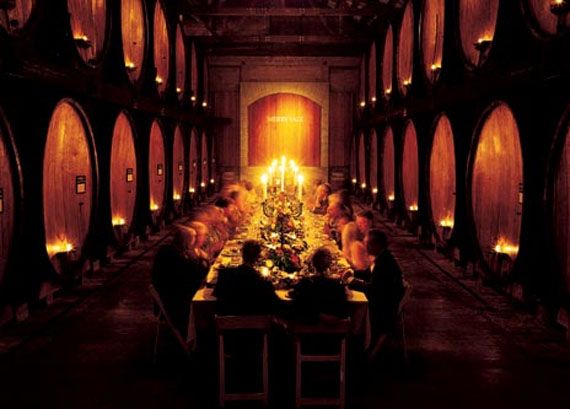 Located in the heart of the Napa Valley, Merryvale Vineyards has been turning exceptional Napa fruit into world-class wine for almost 30 years. The historic winery was the first one built in the
Napa Valley
following the repeal of Prohibition in 1933, and it has become a must-see destination for visitors to the valley.
Ideally situated at the southern entrance to picturesque downtown St. Helena, the winery's property is adjacent to the renowned Tra Vigne restaurant, and within walking distance to excellent shopping and dining in this engaging wine country town.
Guests at Merryvale are greeted by beautifully landscaped gardens accented with an elegant fountain. In this celebrated home, passionate winemaking thrives in the care of the Schlatter family, along with Winemakers Sean Foster and Graham Wehmeier.
Inside, Merryvale continues to capture the charm of its historic beginnings with its one-of-akind Cask Room, often cited as the Napa Valley's most enchanting setting for tastings and special events. Two stories of century-old 2,000-gallon casks line the stone walls to create an unforgettable ambience for unique wine club parties, private events, seasonal dinners, and weekend wine events, including the not-to-be-missed Barrel Tastings held four times a year (in March, June, September, and December).
Visitors to the Napa Valley looking for something more than a "belly up to the bar" experience are happy to learn about two new developments at Merryvale. The first is a Sommelier Reserve Tasting. Resident Merryvale Sommelier Shawn Dougherty invites guests to an exquisite private tasting of ultra premium wines including Merryvale's iconic Bordeaux-style red blend, Profile.
Shawn hand selects each wine and presents them in an intimate setting in either the historic Cask Room, the 22,000-gallon redwood Tank Room, or the Merryvale Wine Library. The second new development is designed for guests who prefer to enjoy their wines with food, or would like to learn more about the art of pairing the two. The Wine & Cheese Experience showcases local artisan and international cheeses and charcuterie personally selected by Shawn and paired with a selection of Merryvale wines. Wine and food lovers enjoy discovering the differences in each pairing and learn why and how to pair food with specific wine varietals.
Merryvale has a long established reputation for rich, elegant wines that speak to the wonderful terroir of the Napa Valley's premier vineyards. The winery's commitment to sustainable farming, balance, and harmony with the land has earned Merryvale's estate vineyards Napa Green Farm Certified Land status. The Napa Green program, which assures the wine industry's best practices in land use and wine production, is the foundation for Merryvale's award winning wines.
Merryvale was recently named Winery of the Year by Quarterly Review of Wines Magazine, and the winery's flagship wine, the 2008 Merryvale Profile, was recently awarded 96 points from wine critic Robert Parker, who called it, "Another big-time winner…maybe the finest wine I have ever tasted from Merryvale." But the entire portfolio gets attention from the media, indicating that a trip to the Napa Valley would feel incomplete without a visit to Merryvale Vineyards.
WHAT TO BUY:
'08 Profile Bordeaux-style Red Cassis, blackberry, vanilla, very long finish $165

'07 Napa Valley Cabernet Sauvignon Black currant, violets, cedar $65

'09 Carneros Chardonnay Ripe pear, mandarin orange, toasty oak $35

CONTACT:

Merryvale Vineyards
1000 Main St.
St Helena, CA 94574
707.968.3431
tastingroom@merryvale.com
Merryvale.com
Tasting Room Open Daily 10 a.m.–6:30 p.m.

SPECIAL NOTES: Historic winery, wine club events and discounts, library tastings, wine pairing seminars, gift shop.