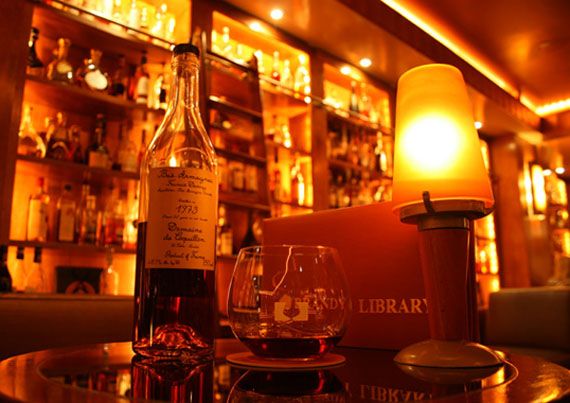 Photo Courtesy of Brandy Library
Your buddy is getting married and it's your task to throw the "Last Night as a Free Man" party. Steer clear of the clichés — they never truly live up to the hype, anyways — and take the group to another kind of gentlemen's establishment where you can still wet your throat by tasting the holy trinity of whiskey, bourbon, and brandy.
Flavien Desoblin is the owner of the polished Brandy Library, named the Best Upscale Bar in our list of the Best Bars in America. This
New York City lounge
is home to one of the world's largest selections of fine spirits, and Desoblin regularly hosts two to three private tastings a week for bachelor parties. He's helped us compile, and answer, five common questions that you should consider on the way to selecting the venue for your party's tasting.
1. If I'm new to these liquors and tastings, will I be the odd man out?
You shouldn't be. The Brandy Library, for example, caters to a wide variety of rookie and veteran tasters. If the group is new to the caramel-colored liquids, then the sommeliers bring them along slowly. If it's an experienced lot, then the sommeliers welcome discussing deep technical questions. Either way, they don't judge, and jokes are thrown in every five minutes to keep it interesting.
2. What kind of value does the tasting offer?
At $125, the Brandy Library's tastings aren't inexpensive, but they do provide a good value, especially for a big city. They offer up to eight different tastes, plus gourmet appetizers, over the course of two hours. As they do at the Brandy Library, make sure the samples come from respected brands like Glenlivet, Oban, Glenmorangie, and Laphroaig — basically from any of those high-end bottles you've seen at the liquor store and don't really know what differentiates one from the other.
3. Will there be teaching at the tasting?
There should be. During each of the three rounds of tastings, the Brandy Library sommeliers share everything from the spirit's history and geographic differences, to how to properly smell and taste a drink, to how to avoid marketing ploys in the liquor industry.
4. Will we get to eat?
Make sure the tasting offers some sustenance so you can fortify your stomach against the strong stuff you'll be drinking. The Brandy Library goes above and beyond generic bar food with appetizers like cheese goug?res, lamb lollipops, steak tartare, and smoked salmon toasts.
5. Is this a sponsored tasting?
It's not uncommon for tastings to be sponsored by a single liquor company, which is, essentially, a brand-specific advertisement and not a neutral tasting.
The Brandy Library
always offers a wide selection of spirits, often revolving around current trends in the industry. Yours should too.
Planning a Tasting? Some Tips to Consider:
If you don't live in an urban environment that has liquor libraries, there is nothing wrong with seeking out a high-end restaurant or lounge and inquiring about holding your own tasting at their establishment. Chances are they have an experienced bartender and could work with you to customize the evening, just like they would a private party.


Make reservations! The early evening offers a prime time to host the tasting. Think of it as an extended cocktail hour from 6:30 to 8:30 p.m. To soak up all of the liquid, head to a classic steakhouse afterwards where you can feast on rich food that's taste holds up to the bold flavors you've just imbibed. Whether you finish the evening standing or not, it's best to end the night after dinner, unless you're looking for trouble.


If you're ambitious, you could commemorate the evening with engraved tumblers for the guests, but an even better option is to present everyone with a bottle of one of the tasted whiskeys. Your buddies probably already have plenty of glasses anyways, so they'll appreciate this gift that will actually get used.
More from our friends over at TheDailyMeal: