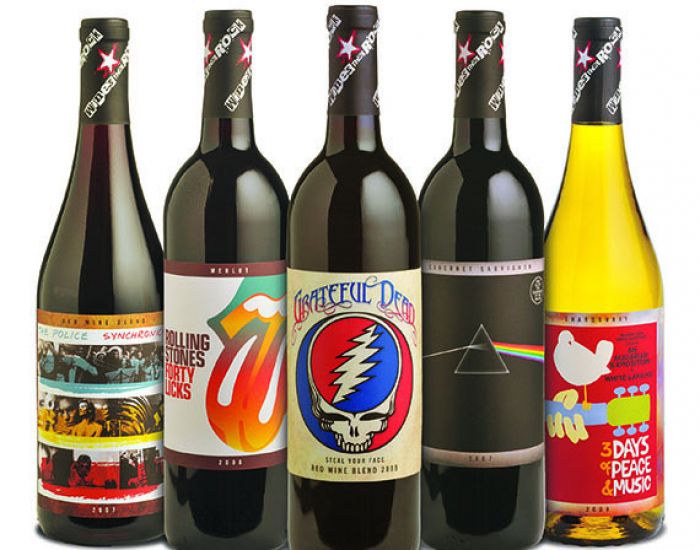 Photo Courtesy of Wines That Rock
Wines That Rock announced this week the release of their newest varietal, Grateful Dead "Steal Your Face Red Blend." The 2009 red blend is the latest in the eclectic
winery
's lineup of rock and roll-inspired labels, which already counts Rolling Stones "Forty Licks Merlot," "Woodstock Chardonnay," The Police "Synchronicity Red Blend" and Pink Floyd's "The Dark Side of the Moon Cabernet Sauvignon" among its offerings.


Crafted by Mark Beaman of the Mendocino Wine Co., "Steal Your Face" was conceptualized while Beaman listened to the Grateful Dead's Winterland Ballroom performance in San Francisco. "To capture the essence of the live energy for Grateful Dead's 'Steal Your Face,' we chose to meld several varietals into one," said Beaman. "Just as the band members would segue through various musical styles, this wine's far reaching flavors melt seamlessly from one to the next.
In honor of the Grateful Dead's famous improvisational concerts that have brought joy to so many, this wine celebrates diversity and freedom of experimentation."

Wines That Rock is made possible through a partnership between rock music business managers RZO and the Mendocino Wine Co. This winery was the first in the United States to achieve carbon neutral status, and has been creating award-winning wines since 2005. All of the Wines That Rock varietals are available at WinesThatRock.com and at selected retailers.