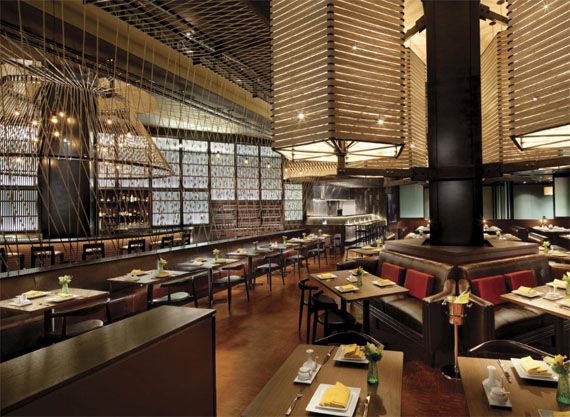 Photo Courtesy of CityCenter
It takes a wealthy culinary patron to bring a dozen star chefs together under one roof, but a great patron to seek out foreign talents — who may not have star power but certainly have the potential — and supply a worthy stage. From the moment we met Chef Krairit Krairavee (or, as Americans call him, "Chef K"), we suspected he was a star in the making.
Actually, correction: From the minute we first tried his spicy grilled lobster salad, we were believers. Bright-eyed and trim in his chef's whites, the Bangkok transplant is a man on a mission to bring his own gourmet version of Thai street food to the hungry American masses. From the Mandarin Oriental Bangkok to
Aria in Las Vegas
, Chef K is ready to spice things up.
JustLuxe: In your experience, what's the biggest difference between Thai and Western palates?
Chef K:
There are many differences between Thai and Western palates. For example, the spiciness of Thai cuisine is well known. In addition, the details and variety in Thai food are of great significance, as it is known for its balance of three to four fundamental taste senses in each dish — such as sour, sweet and salty. Thai cuisine features many different ingredients and ways to be prepared in addition to being known for its enthusiastic use of fresh herbs and spices.
JL: What do you most enjoy about running a restaurant in the U.S.?
Chef K:
 I get to bring traditional, authentic Thai food directly to guests, so they may experience the incredible cuisine of my country.
JL: What's a menu item that  you think everyone should try, even though people from here might be nervous?
Chef K:
Som Tam (papaya salad) is the most popular dish in Thailand. We eat this dish every day because it is light, and it is a good choice as part of a healthy diet. We shred the fresh green papaya mix with Thai fresh chili, fish sauce, lime, and sugar.
JL: What are your favorite three Thai street foods? Are any of them available (perhaps in fancier versions) on the Lemongrass menu?
Chef K:
I have three favorite street foods. My first choice is Phad Cha Seafood (spicy seafood stirfry, which is available in Phedchaburee city and Samutsakorn cityi. Phad hoy lai (stir-fried clams) is my second choice as it is a traditional home cooked dish that has a little touch of spiciness of the homemade dried chili "Nam Prik Pow" with basil. My last choice would be Tom Kha Gai. This dish is known as Thai coconut soup and it has a lot of herbs and ingredients such as kalif lime, Lemongrass, Chili, galangal and coconut milk. All three dishes are available on the menu at Lemongrass.