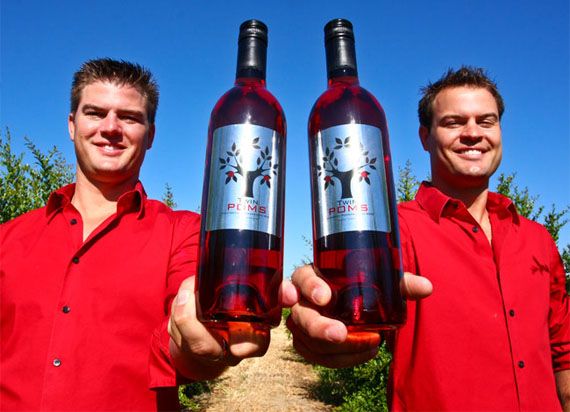 Photos Courtesy of Twin Pomegranates & Linda Kissam
About a year ago on a TV show, I came across twin
winemakers
, 26-year-old Nick and Brian Davis and their refreshing pomegranate wine. Born and raised in California's Central Valley, they've been farming most of their lives. They both graduated from Cal Poly, San Luis Obispo with degrees in viticulture, enology, and marketing.
They have the necessary degrees and experience to produce a decent wine line, but could they actually sustain it and make a fruit based wine line grow? Well, let's just say that a year ago they were promoting one wine, now they have three. Remarkable progress I'd say, especially in a down economy.
I had cellared the pomegranate wine they gave me a year ago, and brought it out for a small summer dinner party. It was a hit. So much so, that I thought I'd introduce the Twin Pomegranate wines to my Women's Wince Council.
I could sense some eye rolling and head spinning when I announced to the Council that we were going to forgo the usual Cab, Zin & Chard tasting for a tart & sassy fruit wine tasting. I promised no overly sweet wines to calm the troops down and I assigned each member some homework. Each member was given a pomegranate wine selection to research and pair with a dish for the tasting. I must say, the girls...and the wine came through with flying colors.
First up was the Sparkling Pomegranate Wine (About $20). It was an instant hit. The nose is predominately pomegranate, but we were intrigued by the somewhat earthy undertones showcasing honey and nut, with just a hint of lavender. This wine is crisp and refreshing and goes well with blueberry Stilton cheese, cranberry chicken, melon wrapped in prosciutto, meatballs with a red Italian and slightly spicy picante sauce, and a dessert called Strawberry Whipped Sensation. Yup, the tasting was off to a very good start.
Next up was the Pomegranate/ White Wine Blend (About $15). In this case the blend is pomegranate and Chardonnay. As a group we thought it had more of a Sauvignon Blanc taste to it. The pomegranate is certainly just a hint in this mixture. More prominent on the nose and palate were the apricot and apple notes. This went well with the cranberry chicken, the meatballs, and the Strawberry Whipped Sensation.
Our final wine was 100% Pomegranate Wine. Another hit (About $15). Possibilities abounded. Everything from martinis, to tall cool spritzers, to reduction sauces seem to call our name. Probably the most adaptable of the three wines, we found this wine to be tart, brisk and sassy – 100% pomegranate all the way. We loved it with all the dishes, but especially the blueberry Stilton Cheese, the cranberry chicken and the prosciutto and melon.
All three wines should be served refrigerator cold to enjoy the true characteristics. Yes, I know this is counterintuitive to how most wines should be served, but it works. The big winner of the three wines in this tasting was the Sparkling Pomegranate. You can find the wines at some Northern California stores like Lucky, Whole Foods, Safeway and various liquor stores. In Southern California area stop by Palm Liquor, 4150 Mission Blvd. #117, San Diego. Visit
TwinPomegranates.com
for additional information.
This post originally appeared at
CityRoom.com
.