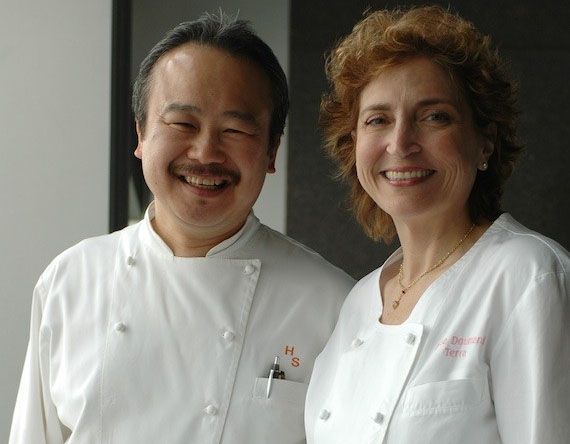 Photo Courtesy of AME restaurant
AME Restaurant is inside the St. Regis San Francisco, and has been awarded one Michelin star from 2008 through 2012. AME's owners are also its chefs, an uncommon situation, but one that has allowed Hiro Sone and his partner wife, Lissa Doumani, a great deal of freedom to create exceptional taste combinations for their restaurant.

Hiro Sone has been involved with food all his life, as he was raised on a premium rice farm in Miyagi, Japan that his family owned for generations. He had early culinary gifts, and studied at the Osaka (culinary school) École Technique Hôtelière Tsuji where learned from Paul Bocuse and Joel Robuchon.

He was then hired by and worked with Wolfgang Puck to open Spago Tokyo, and soon thereafter, went to Spago Hollywood to study under Wolfgang in 1983. It was there he met Lissa Doumani. Later, they moved to Napa Valley and opened a restaurant of their own, TERRA. Recently, he and Lissa opened AME, in San Francisco. I interviewed Hiro recently, where we discussed his life, his food passions, and his philosophy of taste memory.

You and Lissa have been in the culinary world for many years, and own a significant restaurant, Terra, in Napa Valley. What made you want to come to San Francisco and begin anew with AME?

Hiro Sone: We wanted to challenge ourselves how see how much more we can do. It was an opportunity to design our own restaurant and to grow and stretch at our passion, the cooking, restaurant design, and service provision. It's very tough business, the work became double, but same time the pleasure became double too.


What food memories do you and Lissa bring to AME?  

HS: It's hard to pinpoint, but when we see great ingredients our taste memories return. Taste memories comfort you. If you and I have the same food memories, my food will comfort you, because we understand the same taste memories. Traveling is great because you can put yourself in unfamiliar taste situations, your taste buds will become more experienced, and you will increase your taste memories to draw on when creating new dishes.

Who were your early mentors, and what did they teach you?

HS: My mentors are my parents and Wolfgang Puck. I came from a small farming family, as a kid, I learned from them appreciation for food, respect for ingredients, and teamwork. As regards Wolfgang Puck, I worked under him about four years, he showed me freedom of creativity with sensibility. He taught me to use the right side of the brain. He is my culinary Godfather. For Lissa, her mentors were also her parents. Her dad had a couple of restaurants as she grew up so she was a restaurant kid, running around and watching the chefs work. Lissa's mom and both grandmothers were great cooks also and from a very early age they all cooked together.

In your opinion, what is the difference between an excellent cook and a great chef?

HS: To me, cooking is performing art and restaurant is theater. Chef is like a director of theater and the cooks are the performers. The director writes stories, sets auditions, hires performers, trains the performers, maintains a good condition of the theater and opens the curtain on time for every show. The main difference between an excellent cook and a great chef is responsibility and creativity and the ability to teach.

The presentation and plating of a meal is the essential first impression of the dinner guest. What are some of your favorite color, texture and taste combinations?

HS: I love all colors, but especially I love tomato red, cucumber green, custard cream, foie gras beige, yolk yellow, caviar grey, rice white and caramel brown. I love crunchiness. A nice crunchiness of vegetables, chips, even abalone sashimi or sea cucumber is so important to a great meal.

What is the most important kitchen tool in your professional kitchen?

HS: Communication.

What is now one of your favorite culinary creations served at AME? Why?

HS: I like the dishes we created together with our chefs. We know each person has different food memories, favorites and background, but sometimes after the seemingly endless tastings and discussions, we are able to create new dishes that make sense of the season, makes sense of the ingredients and make sense to all of us.

A recent example: Grilled Quail with Potato Bread and Porcini Mushroom Terrine, Braised Winter Greens, Jerusalem Artichoke Puree and Roasted Garlic Foie Gras Game Sauce

Our Chef Randy wanted to serve grilled quail with a potato bread and porcini mushroom terrine, I suggested using beets tops as we have beet salad on the menu so we always have the tops, which are delicious. We wanted to add another dimension to the beets so we added winter greens for a balance of texture and flavor. Then because we have foie gras steak on the menu, we always have trimmings of foie gras. I suggested making a sauce with the trimmings, and the dish was born. Using the whole animal or whole vegetables is very important part when you are creating the menu. Nothing goes into the garbage can, showing respect for both the ingredients, and the environment also.

What is a complex tasting dish on the AME menu? How did you conceptualize this?

HS: I have to say Lissa's Staff Meal is the most complex tasting dish. My mother used to serve Natto (Japanese fermented soy beans) with squid sashimi, sweet shrimp sashimi and raw egg yolks mixed together for breakfast. It was Lissa's all-time favorite when we visit my parent's house. The concept of the dish came from that, but the name came from another experience!

One late night at a Sushi bar, Lissa and I watched a sushi chef chopping small pieces of leftover fish and mixing some other ingredients together. I asked the chef what he was making, he said he was making a staff meal. I asked the chef to serve us a taste, and he kindly shared. We loved the taste and found it very similar to my mom's breakfast dish, with the addition of the crunchiness of pickled vegetables he put in. We married the two concepts together, but instead of the odd pieces of fish we changed the fish to Cuttlefish, added sashimi noodles, salmon eggs and sea urchin to the mix. Lissa's Staff Meal was born.

What do you and Lissa BOTH bring to the AME table? In other words, what do your combined culinary identities bring to the great dining environment of AME?

HS: We bring passion and a desire to do the best for our customers and our staff. We want to continue to grow and evolve, and not change our souls or lose our passion. We also are not arrogant about what we do. We are always learning.

Visit AmeRestaurant.com to learn more.
AME Restaurant
AME Squash Soup
AME Restaurant
AME Sashimi MahiMahi
AME Restaurant
AME Sashimi Oyster
AME Restaurant
AME BBQ Soju Marinated Shrimp Salad