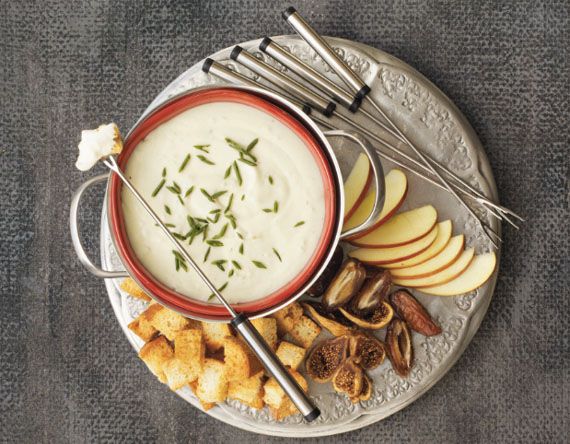 This rich starter from highly honored Chef Todd English owes its distinctive flavor to the combination of goat cheese, chives, shallots, and white wine. English recommends the fondue be served with dried fig, date, or Fuji apple slices alongside toasted bread cubes—an excellent beginning to any meal.
Ingredients:
Unsalted butter, 6 Tbsp.
All-purpose flour, 6 Tbsp.
Shallots, 2 Tbsp. chopped
Garlic, 2 tsp. minced
Olive oil, 2 tsp.
Dry white wine, 1/4 cup
Heavy cream, 3 cups
Goat cheese, 20 oz. crumbled
Kosher salt, 3/8 tsp.
Freshly ground black pepper, 1/8 tsp.
Fresh chives, 1/4 cup thin diagonal slices
Dippers:
toasted bread cubes, dried fig slices, dried date slices, Fuji apple slices
Procedure:
1. Melt butter in a small heavy skillet over low heat; whisk in flour until smooth. Cook, whisking constantly, 2 minutes or until mixture is light brown and has a nutty fragrance. Remove from heat
2. Sauté shallots and garlic in olive oil in a medium saucepan over medium heat 3 minutes or until tender. (Do not brown.) Gradually add wine, stirring to loosen particles from bottom of pan. Gradually stir in cream and cheese. Bring to a boil; reduce heat, and simmer 1 minute or until cheese melts. Stir in flour mixture. Cook, stirring constantly, 3 minutes or until smooth and thick. Remove from heat. Stir in salt and pepper
3. Transfer fondue to a fondue pot. Sprinkle with chives. Serve with bread cubes, figs, dates, and apple slices. 6 cups (about 12 servings)
Note:
A creamy Gorgonzola or Cambozola makes a great alternative to goat cheese.
Drink:
California Gewürztraminer