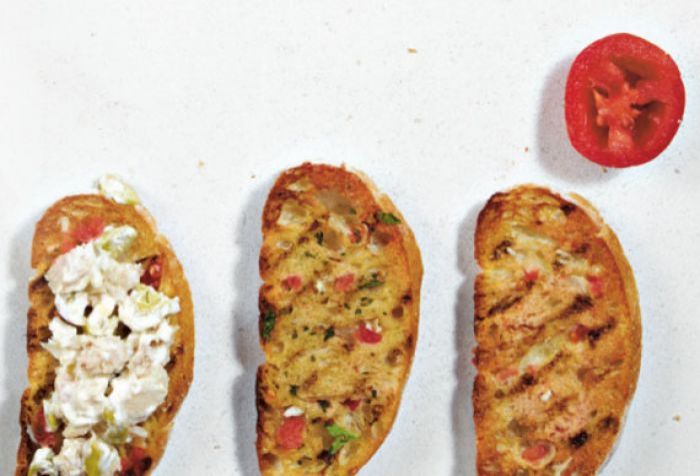 Chef Todd English uses his award-winning, rustic approach to Mediterranean cuisine by combining fresh ingredients to produce this wonderful starter-- perfect for any dinner party or entertaining endeavor.
Ingredients:
Country bread, 6 (3/4-inch) slices
Olive oil, 1/4 cup
Garlic, 2 cloves halved
Tomato, 1 medium halved
Kosher salt and freshly ground black pepper to taste
Procedure:
Preheat grill to 350 degrees to 400 degrees (medium-high) heat. Brush both sides of bread with oil
Grill, covered with grill lid, 2 to 3 minutes on each side or until toasted
Rub toast slices on 1 side with cut sides of garlic halves. Rub tomato halves over garlic on bread
Sprinkle with salt and pepper to taste. Serve immediately.
Tuscan Style:
Rub toast slices with fresh mint sprigs after rubbing with garlic. (You'll need about 10 fresh mint sprigs.) Proceed as directed in recipe.
Gorgonzola:
Top each toast slice with about 1 Tbsp. Gorgonzola cheese after sprinkling with salt and pepper.
Tuna and Green Olive:
Gently stir together 1 (5-oz.) can chunk light tuna packed in oil, drained and flaked; 1 cup coarsely chopped pitted Spanish olives; 1/3 cup mayonnaise; and 1 tsp. fresh lemon juice in a medium bowl. Rub tomato halves over garlic on bread. Sprinkle with salt and pepper to taste. Spoon 2 Tbsp. tuna mixture onto each toast. Sprinkle tuna mixture with chopped fresh parsley.
Print This Recipe