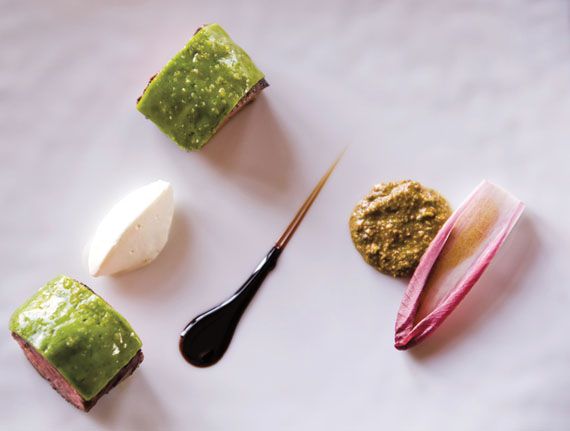 William Bradley, was a 2010 James Beard Foundation semifinalist and is the Executive Chef of the Addison Restaurant at The Grand Del Mar in San Diego, California. The Addison is the only Southern California restaurant bestowed with 5 Diamonds, with many thanks due to Bradley's refined touch.
Ingredients:
2 Frenched racks of Colorado lamb
Sea salt and pepper to taste
4 Cups pistachios
2 ? Cups sugar
1 ? Cups pistachio oil
1 Cup dried cherries
1 Cup dried plums
1 Cup dried apricots
1 Cup dried dates
1 Tablespoon saffron
1 Tablespoon yellow curry powder
1 Cup red wine vinegar
2 Cups water
1 Cup orange juice
? Cup chopped parsley
Method for lamb:
Season lamb with salt and pepper. Place lamb racks on a heated grill. Grill each side for 5 minutes. Then remove lamb and let rest at room temperature.
Method for toasted pistachios:
Preheat oven to 300 degrees Fahrenheit. Place pistachios in a mixing bowl.
Add 4 tablespoons sugar, salt to taste and 4 tablespoons pistachio oil and mix thoroughly.
Place mixture on a baking sheet and roast in the oven for 15 minutes. Remove pistachios from oven and place them (still warm) in a food processor.
On the puree setting, slowly add the remaining amount of pistachio oil, and continue to puree until smooth.
Method for stone fruit marmalade:
In a large saucepan, place the dried cherries, dried plums, dried apricots, dried dates, saffron, curry powder, red wine vinegar, water, orange juice, salt to taste and the remaining sugar and cook over low flame for 1 hour, stirring occasionally.
Assembly:
Season the cooked lamb with sea salt to taste and chopped parsley. Slice each rack into six pieces and place a piece in the center of each plate.
Place pistachio puree and stone fruit marmalade alongside sliced lamb.