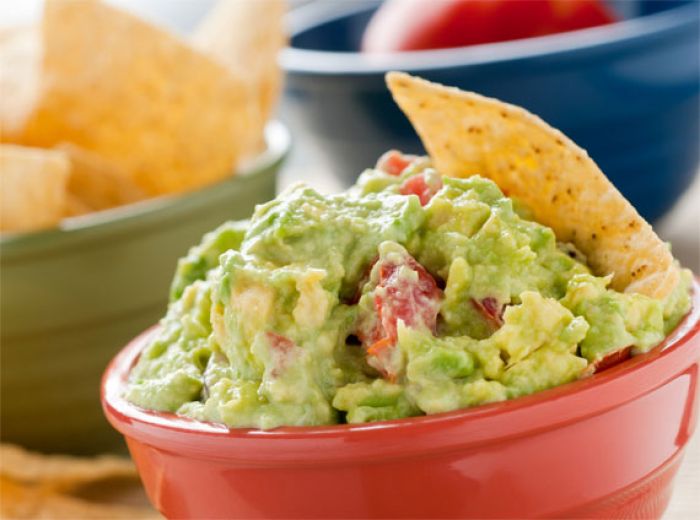 Chef Rick Bayless, who is based out of Chicago, has won two James Beard Awards for his fresh take on traditional Mexican cuisine. In college he thought he would study cultural anthropology before a trip south of the border changed mind and led him towards a career path in culinary arts. After wide success with the opening of Frontera Grill in Chicago, Bayless opened Topolobampo and it has become one of the only restaurants in the United States serving high-end Mexican fare. (Makes about 3 cups, serving 8 to 10 as a nibble)
Ingredients:
3 Medium-large (about 1 ? pounds) ripe avocados
? medium white onion, chopped into ?-inch pieces (about 1/3 cup)
Fresh hot green chiles to taste (usually 2 serranos or 1 jalape?o), stemmed, seeded (if you wish) and finely chopped
? cup soft sundried tomatoes, chopped into 1/4-inch pieces (patted dry on paper towels if oil-packed)
? cup (loosely packed) chopped fresh cilantro (thick bottom stems cut off), plus a little extra for garnish Salt
1 or 2 tablespoons fresh lime juice
A little Mexican queso fresco or other fresh garnishing cheese like feta or salted farmers cheese, for garnish (optional)
Procedure:
Cut around each avocado, from stem to blossom end and back again, then twist the two halves apart.
Dislodge the pit and scoop the avocado flesh into a bowl.
Using an old fashioned potato masher or a large fork or spoon, mash the avocados into a coarse puree.
Scoop the onion into a small strainer and rinse under cold water.
Shake off the excess water and mix into the avocado, along with the chiles, tomatoes and cilantro.
Taste and season with salt and lime juice—the guacamole usually takes about 1 teaspoon of salt; lime juice is a matter of personal preference.
Cover with plastic wrap directly on the surface of the guacamole and refrigerate until you're ready to serve (for best results, this needs to be within a couple of hours).
Scoop the guacamole into a serving dish, sprinkle with a little chopped cilantro and queso fresco (if you're using it) and you're ready to serve.