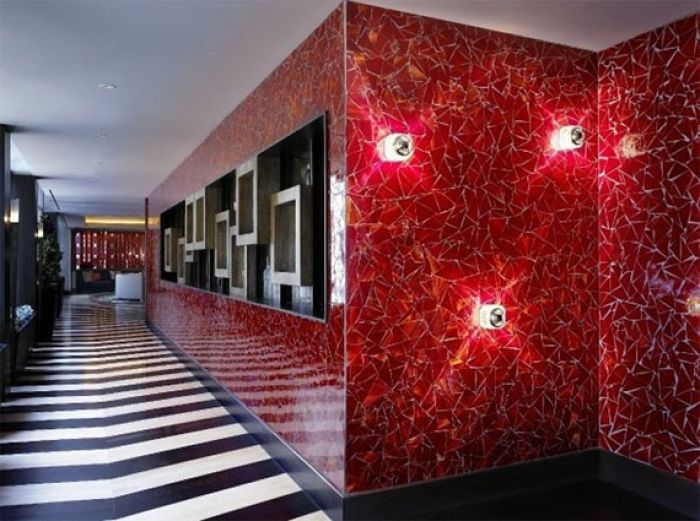 Photo Courtesy of BLVD 16 Restaurant & Lounge
When in
Los Angeles
, it'll be worth your while to head over to BLVD 16 Restaurant and Lounge in Westwood, which is ensconced in the trendy and sophisticated Palomar Hotel on Wilshire Boulevard. Surrounded by a bevy of high-rise residences, BLVD 16 exudes that friendly and familiar neighborhood gathering place vibe that's duly complimented by an urban chic atmosphere and uncompromised American California cuisine.
Recently relaunched in February of this year, BLVD 16 is part of the Kimpton family, a collection of
boutique hotels
and chef-driven eateries throughout the U.S. designed to provide intuitive and unscripted customer care, stylish ambience, and playfulness in its hospitality approach. This is achieved at BLVD 16, which offers a relaxed and unrushed respite in a contemporary and artful setting. Here, modern lines, warm wood accents, rich colors, soft lighting, and eclectic music converge, making the separate, uber-cool bar and dining room spaces a feast for the senses.
For those that just want a drink and a nibble, BLVD 16 boasts a vibrant lounge and bar that feels like you are hanging out in a friend's cozy living room – a really cool and classy friend that is. BLVD 16's specialty
cocktail
menu has it all, from the classics and retro drinks to signature concoctions that will ensure you find the perfect blend to help you unwind and enjoy. Of course, an impressive selection of wines by the bottle or glass, and bottled beers are also available.
Along with the reconceptualized and redesigned interior, new Executive Chef Richard Hodge is now commanding the culinary helm. Chef Hodge has revamped the menu into one that's seasonally driven and often contingent on what he's found on trips to the local farmer's market. Complementing the drink menu at BLVD 16 is a special assembly of "Bites, Share, and Small Plate" items. In the dining room, Chef Hodge has ensured there's something for everyone as the menu's main dishes are divided into key culinary categories, which include "Pasta, Sea, and Land."
I started with a taste of their Carlsbad Oysters ($3 each), which were as supple and fresh as a sea breeze. Then I moved on to an equally fresh and flavorful Fish Taco ($4 each). I also enjoyed the rich and amply portioned Flat Bread ($7), bursting with squash blossoms, nettle pesto, and silky Burrata cheese. The Carrot Soup ($9) rounded out the stellar starter's experience. Next, I sampled the Steak Salad ($16). On the lighter side, I also tried the Roasted Beet Salad ($11) that was absolutely divine.
For the main course, I opted for the Duck ($24) – a grilled breast and confit leg with creamy polenta and citrus. The duck, also generously portioned, was moist and flavorful, and the confit preparation was on point. Another in my party ordered the Scottish Salmon ($24) served with gorgeous dark lentils and seared cauliflower in a tomato bread sauce. As expected, the salmon was moist, fresh, and flaky, and the recipe on the whole was well-strategized with complimentary tastes and textures. On the side of my entree, I enjoyed the deep green Blue Lake Green Beans ($7), nearly al dente and served with caramelized shallots.
Dessert at BLVD 16 also did not disappoint. I went with the Chocolate, Chocolate, Chocolate ($8) – a sinful chocolate cake with chocolate budino and chocolate ganache, which provided a dramatic end to an overall wonderful dining experience. In all, BLVD 16 has infused some fresh energy into the Westside scene, and will surely do its part to draw locals and travelers alike to partake in its special brand of food, frivolity, and fine customer service.
For more information visit
Blvd16.com
.