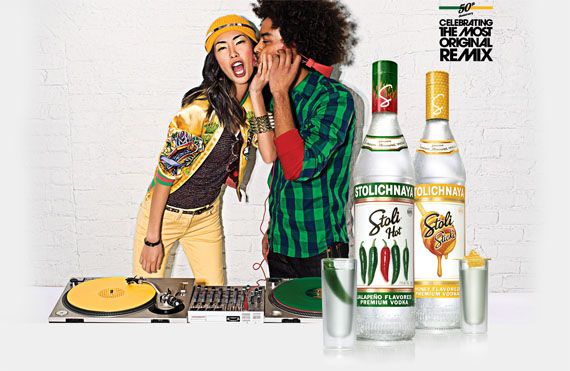 Photo Courtesy of Stolichnaya
Springtime in New York will bring a wave of warmth as premium
vodka
brand Stolichnaya® celebrates its 50th anniversary with a few new twists on old favorites. For half a century the brand has been creating high end liquor with unique flavors, and the company's dedication to quality and crisp taste has consistently set Stolichnaya® ahead of the pack. To help commemorate the brand's anniversary, Stolichnaya is remixing a few of the very first flavors the company produced in 1962—Pertsovka, or Pepper, and Okhotnichya, Honey and Herb. The introduction of Stoli® Hot and Stoli® Sticki™ hopes to usher in the spring season with a harmonious balance of both candied sweetness and spicy heat.
CEO of SPI Group, Val Mendeleev, said, "The brand is thrilled to reintroduce pepper and honey flavored vodkas, Hot and Sticki™. These spirited and timeless remixes are the perfect complement to our existing premium flavored vodka portfolio. We hope our fans will enjoy these delicious and versatile offerings in a variety of mixed drinks." Additionally, the brand's ambassador,
Charlotte Voisey
, the British bartending legend who holds a string of international mixologist medals under her belt, is excited to represent the company's remixed editions.
When asked about the new flavors, the talented queen of bartending said, "Stoli Hot & Sticki are fun and vibrant flavors that bring immediate character to a range of seasonal cocktails. I like to tame the green pepper heat of Stoli Hot with fresh fruits in long refreshing drinks - Strawberry & Pineapple Collins for example. With Stoli Sticki it is a nice chance to bring some sweet honey notes to an elegant classic."
Voisey was most recently honored at the 2012 James Beard Awards for her contributions as one of the world's leading female mixologists.
In other news regarding the brand, last night, at NYC's Paris Theater, La Mer, Elit by Stolichnaya and Pommery sponsored La Revolution Bleue. The event was hosted by January Jones, Ted Danson, and Susan and David Rockefeller. The soiree featured a cocktail reception and VIP After Party at New York's swanky Casa Lever. take a look below for the drink
recipes
the event's guests enjoyed, as well as unique ways to cool down or heat up while enjoying the new Stoli Sticki® and Stoli Hot®.
elit REFRESHER
4 parts elit by Stolichnaya®
1 part fresh lemon juice
1 part simple syrup (or agave nectar)
Sprig of fresh mint.
Shake with ice and strain into an ice-filled rocks glass.
Garnish with fresh mint.
Stoli Sticki Bees Knees
2 parts Stoli® Sticki™
3/4 part fresh lemon juice
3/4 part honey syrup*
Pour into a shaker with ice. Pour vigorously and strain into a martini glass. Garnish with a curl of lemon peel. *equal parts honey and boiling water
Stoli Sticki Mojito
2 parts Stoli® Sticki™
1/2 part simple syrup (or BOLS Triple Sec)
1/2 part fresh lemon juice
8 muddles mint leaves
Soda water
Build in an ice-filled highball glass and stir. Garnish with a mint sprig.
Stoli Hot N' Juicy
(But garnished with a Jalapeno slice)
2 parts Stoli® Hot™
? parts pineapple juice
? parts lime juice
? parts simple syrup
Shake and serve over ice in a rocks glass. Garnish with a pineapple slice.
Stoli Hot Tomato
2 parts Stoli® Hot
Muddled cherry tomatoes
3/4 part fresh lemon juice
? part simple syrup
(or BOLS Triple Sec)
Shake and serve over ice in a rocks glass. Garnish with a green pepper.
To learn more visit
Stoli.com
.